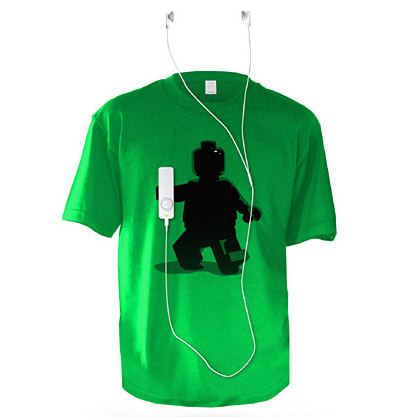 I just got this email from PodBrix. They will sell a limited edition (300) t-shirt tonight. The shirt (pictured) features the iPod silhouette figurine from the first PodBrix release and doules as a iPod Shuffle holder.
Brixwear 1000 goes on sale tonight at 9:00pm EST
The first PodBrix apparel item goes on sale tonight (3/21/05). The Brixwear 1000 is a signed limited edition of 300 units. It features an integrated patent-pending magnetic clasp system to secure your iPod shuffle to the front of the shirt.

No modification is needed to your iPod shuffle. Simply place it over the clasp area of the shirt and it locks into place. The shuffle stays firmly attached even with vigorous activity. A quick pull easily removes it from the shirt.

The Brixwear 1000 is available in medium, large or x-large sizes. There are 300 units in total; 60 medium, 120 large and 120 x-large.

Each Brixwear 1000 shirt will sell for $28.99. It does NOT include the iPod shuffle. More details and product photos will be available on the PodBrix.com site at 9:00pm.