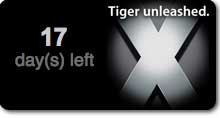 Since OS X Tiger with Dashboard is still a ways off. I suggest checking out the original widget app, Konfabulator. To help get you started with "widgets", I have created the Tiger Timer. Tiger Timer, using Konfabulator, will sit on your desktop and countdown the days to the arrival of OS X Tiger. Enjoy!
[Download Tiger Timer Widget for Konfabulator]
To install: Just download the .ZIP file. and unzip into your 'Documents' –> 'Widgets' directory on the Mac or the 'My Documents' –> 'My Widgets' folder on the PC. Then open the widget in Konfabulator.