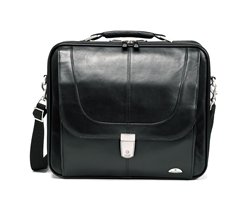 Samsonite XT780





This review is on a piece of hardware that is usually given only a slight afterthought. I'm talking about the case your mac goes into. I've had a Samsonite XT780 for about 3 months and I'd say its a perfect mac companion. The front semi-lockable (its as if you're locking a door by turning a knob) compartment holds your chargers and portable mice. The Apple charger fits perfectly into one of the compartments, as does the Apple mouse.
Now, onto the most important feature: the computer. If you have a 15 inch powerbook or 14 inch ibook, then you're in luck. It fits perfectly. But if you have anything else, it's not going to fit snug enough to provide adequate protection.
There are pockets galore on the TX780, but many of them I found rather unhelpful. A few papers and a small paperback book can fit into the final back compartment- that much I understand. But there are some pockets I cannot find a use for. For instance, in the front compartment where the charger and mouse holders are, are 3 small pockets less than an inch deep. I can't even fit my iPod firewire cord in it. Flipping back to the other end of the bag, there is a zipper for a sizable pocket. However, the stitching on the bag (and the fact that its leather) doesn't allow for expanding, so you're left with a large pocket that can only hold very wide thin things, I suppose A magazine or ONE legal pad may fit in there.
Overall though, the bag looks smart, and has what I look for in a bag, plenty of pockets. Although some seem confusing and useless.