Listen to this interview here!


snowballspc002.mp3 [32.1mb 01:10:03 64kbps]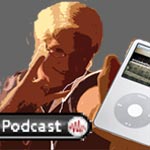 I had the opportunity recently to be interviewed by Steven "Snowball" Saylor of Snowball's PC Podcast. Steven did a great interview and he really go into the why and how of the MacCast. We discuss how I began the MacCast and he really digs into my process for creating the show. We talk about content, show prep and all about the equipment I use to create the MacCast. Take a listen. I think you will find it very fun and informative.
Subscribe to the Podcast Feed or Get the MP3