View the Vidbit here!


MC20060201VB003.m4v [7.42MB 00:01:16 H.264]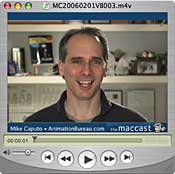 A podcast about all things Macintosh. For Mac geeks, by Mac geeks. VidBit 003. Our friend Mike Caputo from Animation Bureau is back. This time he has a product to help reduce some of the gadget clutter we all suffer from. Skullcandys new line of Link headphone products allow you to connect any iPod and almost any cell phone to one set of headphones or earbuds. I say any product designed to help me reduce the number of wires in my laptop bag is a good one. Enjoy.
Get the video (H.264 ~7.42MB)