Just to prove my point that iPods docks are everywhere, I am going to be trying to post stories on all the ways companies are integrating iPods into their products. From cars, to toilets, to clothing, iPod docks are everywhere. Todays dock is one from a New Zealand bed maker and is being billed as "The Worlds Most Comfortable iPod Dock". This bed is made from New Zealand Rimu with aluminum detailing and is called the Pause. Made by Design Mobel, this bed is completely customizable and features traditional options like side lamps and storage trays, but what makes it totally unique is its ability to accommodate an universal iPod dock and BOSE speaker system. How's that for true Mac geek comfort?
The Pause Bed with iPod integration (more info and images)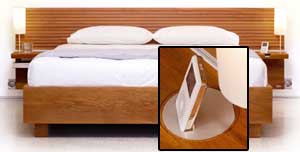 Thanks to listener Howard for sending this one in.