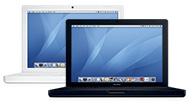 With consumer and professional expectations in portable computing coming so close together over the past few years it's really become apparent that Apple has taken this on board. With todays introduction of the MacBook, Apple is now offering very similar machines for very different tasks. Their newest addition to the line-up of Intel based Macs, which so far have directly replaced their PowerPC brothers; is the 13″ MacBook.
As expected this new iBook replacement is indeed named the "MacBook" and fills the consumer portable quadrant of Apples marketing plan. It bears many similarities to the iBook, but also to the MacBook Pro which should suggest a good starting point. Available in 3 models options there should be plenty of choice available for the consumer level Mac user and MacBook should leave few people wanting more. The MacBook can already be picked up in US Apple Retail Stores and are available for shipping in 3 days from the Apple Online Store.

The first noticeable thing about the MacBook is how it is available now in two colors; black or white. This change follows in the wake of the iPod line and shows Apple are indeed listening to their customers who have been screaming out for exactly this change. It does however come with it's downsides. For example the black color is only available with an 80Gb hard drive (minimum) and a 2.0Ghz processor, where the white color is available with a 1.83Ghz (or 2.0Ghz) processor and a minimum of a 60Gb hard drive. This takes the price up by $200.00 USD with a retail value of $150.00 USD for the color which I for one can't quite fathom.
Backtracking a little, the MacBook rings in at $1099.00 USD for the basic model, with 2.0Ghz versions available for $1299.00 USD (white) and $1499.00 USD (black) as standard. The basic models each come with 512Mb of RAM (2x256Mb), a 60Gb hard drive (80Gb minimum in the black model) and full networking capability with AirPort Extreme, Gigabit Ethernet and Bluetooth. They also feature SuperDrives as standard for the 2.0Ghz models and Combo Drives for the 1.83Ghz model. This is something I am a little disappointed in due to the lack of options on the models where you could previously drop the SuperDrive in favor of a Combo Drive for a saving of $70.00 USD.
All models come with a 13.3″ screen with a native resolution of 1280×800. The screens have been adorned with a glossy finish which is causing concern right now, but will not be proven either way until they hit the streets. They also have built-in iSight cameras, Frontrow (with remote), and iLife '06 as standard. Each model also boasts a good set of peripheral connections with one FireWire 400 and two USB 2.0 ports each. The lack of FireWire 800 is understandable, but would be a welcome addition for use with external hard drives, but connectivity is increased with the addition of the same optical digital audio ports as we saw in the MacBook pro as well as the inclusion of MagSafe power connector technology.
Interestingly the MacBook lines up pretty well with it's 2.0Ghz brother the MacBook Pro. All specs barring the screen size/resolution (being different sizes) line up pretty well. Basic specs are the same on both Macs with the MacBook Pro weighing in 0.4 pounds heavier and slightly larger. The MacBook Pro is also slightly thinner than the new MacBook… 0.08 inches thinner to be precise. The MacBook Pro offers a better battery life however at 6 hours if you push it. Most users will leave AirPort turned on though offering a fairer comparison of 2.5 hours to the MacBook Pro and 3.5 hours to the MacBook. Again, real life testing will verify this statistic.
Other than that the two machines are almost exactly the same, with the exception of the graphics card and keyboard. Apple have included an Intel GMA 950 in the MacBook with 64Mb of shared memory. This is not nearly as good of a graphics card as the MacBook Pro boasts however it does keep the costs down for consumers that really shouldn't require any more from a portable machine. Sadly the keyboard on the MacBook is not backlit but I feel this is something that will be remedied in later versions (possible 12-24 months away).
Overall this looks to be a a great little portable and a fantastic replacement for the iBook. It really looks to be good alternative to the MacBook Pro if you don't require the screen real estate or graphics card, which would save you $500. I think this will be Apples #1 consumer Mac for some time to come, and am desperate to find the cash myself.
Matt Hoult is a freelance writer and blogger in the UK. In addition to writing for the MacCast and the Typical Mac User podcast you can find his personal thought and observations on Apple related topics at
MattHoult.com
. Matt is also currently interested in finding employment State side. If you have a position available please contact him at
mailto://matt.hoult@gmail.com
.