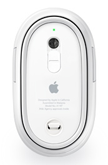 Can losing the cord save the mediocre Mighty Mouse?
Well at least Apple finally caught a clue and fixed one of my major complaints about the Mighty Mouse. It should have been Bluetooth from the beginning, especially since every Mac currently ships with Bluetooth built-in. Now, I actually bought an original Mighty Mouse and I was really excited about finally having an Apple designed mouse with two buttons and scrolling. I even used it for a while, but the truth is it now lives life in a bottom desk drawer (a fate I feel many a Mighty Mouse may have met). My reasons for abandoning the Mighty Mouse are unknown even to me. The only answer I have is an esoteric one and it involves knowing that using the Mighty Mouse just never felt quite right. The mouse-ball was fun to play with, but was never really as practical as a scroll-wheel. The "squeeze" button was always awkward to use and the invisible right mouse button never seemed to be as functional as the button on a true two-button mouse. Lastly there was the wire. It just never made sense considering all the great wireless two-button scroll-wheel mouse options available from Microsoft, Logitech and others. So while Apple has lost the wire, and that is a good thing, I think this new revision of the Mighty Mouse may end up being the "Almost but Really Just Not Quite Mighty Mouse with Bluetooth".
UPDATE: I just read that the new version is also laser based and not optical, which is a nice improvement, but doesn't really fix the issues I mentioned above.