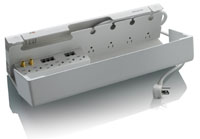 It's about time someone recognized an issue faced by geeks everywhere. More power. As we add more and more devices to our techy lifestyle you need more and more outlets to power all your gear. Of course we all have those bulky power strips and surge protectors and they work, but you definitely wouldn't call them "elegant" solutions. Admit it. Your cables are knotted up under your feet ready to reach out and ensnare your ankles like a giant octopus from the deep. And don't even get me started on what you need to do when you have to take your Mac on the road. Most notebook bags just aren't designed for that 12-inch monster power strip. Well it looks like the good folks at Belkin are feeling our pain too because they just annonced the release of their Concealed Surge Protector (USD$49.99) and their Compact Surge Protector (USD $39.99) and Clamp-On Surge Protector (USD$34.99) products.
The Belkin Concealed Surge Protector offers 8 outlets (including 4 wider "BlockSpace" ones) and has a cable organization system featuring a closing cover. This not only hides all that ugly cable clutter, but also means the cables are better protected from being accidentally knocked out of their sockets by your unruly feet.
The Belkin Compact Surge Protector is really designed to use up a minimal amount of space when sitting on the floor or when tucked away behind your home entertainment center, but it may also turn out to be a nice option for you road warriors. I imagine with its space saving design it can easily be tucked away in a suitcase for handy use at a hotel or office when your on the go. The compact surge protector offers 11 outlets (again with 4 "BlockSpace" ones) and also has integrated cable management feature.
Lastly the Belkin Clamp-On surge protector (6 outlet, 2 "BlockSpace") quickly and easily solves the problem of accessing the outlets on your power strip when it's on the floor behind a piece of furniture. Now you don't have to have everything crammed deep down in the bottomless hole behind your desk. Simply clamp this power supply onto any surface and you will have access to your outlets when and where you need them.
Lets face it power in not the most exciting technology topic we can discuss, but it is probably one of the most necessary. With these new products Belkin is at least trying to take a more useful, function and somewhat stylish approach to an issue we all face on a daily basis. I for one appreciate and applaud their efforts.