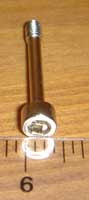 Well this is a bit strange…. I just received an email from a listener who purchased a new Mac Pro (the 266GHz base configuration) and found something unexpected inside its beautiful designed enclosure. His new system arrived and while gleefully extracting it from the box he noticed an unusual, but familiar, "rattling" sound. This listener, who was a recent switcher, had built his own PCs so he could tell immediately that there may be a loose screw or two rolling around inside his new high octane Mac. He was obviously concerned and sure enough after removing the side door and carefully rocking the case, four (yes four) screws came plopping out (see the picts). These screws were each approximately 1 1/8″ long with 1/8″ thread at the end. After completing the screw extraction, he further inspected the inside of the case and fortunately could not see any empty holes where the screws may have originally resided. He went ahead and set up the new Mac and has been using the machine which appears to be working fine. After reading his email I encouraged him to contact Apple, which he did, and they seem to feel the screws must have "fell" into the case during manufacturing. They did advise him to bring the Mac in so they could do a thorough inspection, just in case.
So now I have a few questions… First, can anyone identify these screws, say where they came from or tell us what they might be used for? Second, how come these screws were not discovered by Apples quality control before shipping? Lastly, are there any other owners out there who have found these screws or similar loose parts inside any of their new Macs (Mac Pro or otherwise)? I would hope this is a one time isolated incident, but lets find out for sure.
Overall I think this does just go right back into our discussion about Apple and concerns I have over the quality of their products in recent years. Are Apples standards becoming a little more laxadasical? Now I don't want to cause a panic and I am sure this is just one random case. But, we also can't let Apple slide. One of the reasons Apple is so great is they listen to us, so when we see this stuff we need to say something. Apple has always made quality products and of course we love them, but if they are slipping we need to say something about it. Lets make sure we do our part to help Apple maintain the high standards they are known for and ensure that they continue to make the best personal computers in the world.