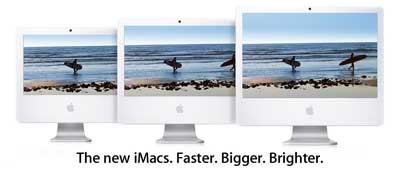 Guess Apple decided not to wait until September 12th to deliver its new iMacs. Apple just updated their web site with four new iMac models, including a huge 24″ model. All the new iMacs are up to 50% faster due to the fact that they now all have screaming fast Intel Core 2 Duo processors. The four models spec out like this: a 1.83 GHz and a 2.0 GHz 17-inch model, a 2.16 GHz 20-inch and the all-new 2.16 GHz 24-inch iMac. Prices start at USD$999.00 and they are shipping today through the Apple Store.
Update: As some astute listeners have pointed out, the top 3 iMac models now come with 1GB of RAM standard (Thank you Apple). Also the bottom of the line Intel Mac Mini received a quiet update too. The top model was bumped to a 1.83 GHz Core Duo and lower end model is now a 1.66GHz Core Duo processor instead of the Core Solo. Mac Mini pricing remains unchanged at USD$799.00 and USD$599.00 respectively.
Update too: Something important to note if you plan on buying the cheap 17-incher… it does not include the Apple Remote! If you plan on using it with FrontRow do yourself a favor and make sure you pick up the USD$29.00 remote when you make your purchase.