If you're a Mac switcher from either Windows or Linux like I was a few years ago, one of the first applications you'll want to get to know is Address Book. The sooner you import your contacts into Mac OS X's Address Book, the sooner you'll appreciate how a little bit of data like your contacts transform and compliment the Mac's usability in other applications. Let's take a look…
Exporting Existing Contacts from your PIM
So, let's start with the Address Book. If you're coming from Linux and you're using apps like Evolution or Kontact, you're in luck because exporting contacts should be fairly simple. Just select all your contacts, and in the File menu, select "Save as VCard…" After transferring the resulting file ending in .vcf to your Mac, open Address Book and in the File menu, select "Import vCards" and that should be it.
If you're coming from Outlook from Windows, there is a lengthy but free way and a painless but inexpensive way. I'm going to take the easy way out and go with O2M by Little Machines. Just download it on your Windows PC, run it and follow the directions. When you're done, you'll too have a vCard to import into Address Book. Unless you like spending time tinkering, it's probably more worth your time to pay the $10 to O2M and get the job done.
Lastly, if you were clever enough to use the cross-platform Thunderbird to store your contacts on whatever OS, you too can simply export selected contacts to an .ldif file, which is a format that Address Book will understand and import.
Whew, the hard part is over, now let's have some fun!
Contact Mug Shots
One of the fun things you can do with Address Book is add photos to your contacts. It sounds trivial, but after you've done it (and it's easy to do), it's one of those features that makes you want to keep using your Mac. And it's not because you're going to be hanging out in your Address Book, but because the information that you store in Address Book, like a simple contact picture, is used by other applications like Mail and iChat.
You may already have images of your friends on your PC or Mac. For contacts you don't have photos of, you can use pretty much any image you'd like. Google Image search can be very useful for people that might have an online presence, or if you're looking to substitute your own face for George Clooney or Brad Pitt (however, the MacCast does not in any way condone the impersonation of celebrities).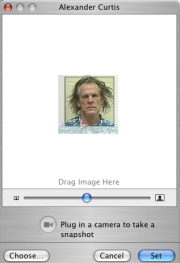 To get the image added to the individual's contact, in Address Book, select the contact, click edit, double click the gray square to the left of the contacts name which pops up a little image re-sizer window. Either drag the image you want for that person into the window or click the "Choose…" button to find it, then move the image around so you have the part of the image within the square (which you can grow or shrink using the slider at the bottom). After you're done, click "Set" and viola, you've added a lot more personality to your Address Book.
Adding more than the Default Info
You may quickly find that the default bits of information, or fields, that are listed for each contact in Address Book just don't cut it. For instance, if a person has a web page, by default, you can't add a URL to a contact. However, that's easy to change. You can do it on a per-contact basis by selecting the card, then in the Card menu, select "Add Field…" and then select the field, like "URL" for adding a web page.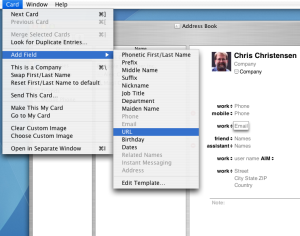 If you want to add more of the same fields already listed—say if someone has more than two phone numbers—while in edit mode, click the green "+" button by the desired field, select what the new field will be called—like "work fax"—or add your own by selecting "Custom" in the drop down list. Custom comes in very handy when you want to store a contacts relation that might not specifically be listed, like "cousin" or "milkman" or "fellow-Mac-fanatic."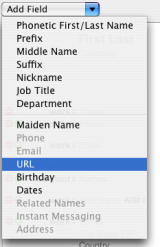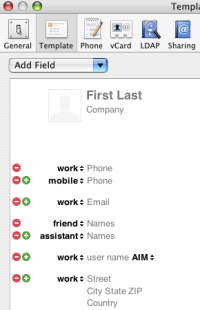 If you want to change the default fields for every contact, that's easy to do as well. Go into Address Book's preferences (found in the Address Book menu, or using the keyboard shortcut of Cmd-,), and select the Template icon. There you will see the default fields for each contact. To add a field, simply select the one(s) you want from the drop down "Add Field" menu. And just like above, if you want to add more of a certain field listed by default, click the green "+", or if you want to eliminate a field by default, click the red "-". When you close the Preferences window, you'll find that the next contact you create will list those new fields.
Change Yourself
When you buy a new Mac, the first time you start Mac OS X, it will ask you for your name and user name, and even ask to select a user image from a bunch of fun icons pre-installed on the system. You may also note that the information you gave is stored in Address Book, in a special card called "My Card." You can find My Card by selecting "Go to My Card" in the Card menu. It even has its own special icon in the names column and you should see a little "me" next to your image in the card itself.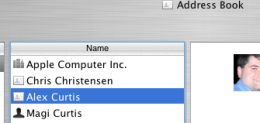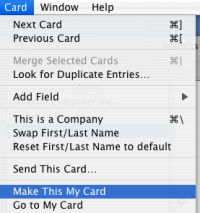 If for some reason you want to change which contact is the "My Card" in Address Book, select the new contact and in the Card menu, select "Make This My Card."
Sorting in Groups
Another useful customization of Address Book is place contacts into groups. Not only can this come in handy for when you're trying to find a person in Address Book itself, but it can help with email distribution lists and sorting emails into folders in Mail, picking which contacts you'd like to synchronize with your PDA or mobile phone with iSync, and creating mailing labels in Pages, just to name a few. It's as simple as dragging and dropping.

First, make sure you're in "view card in column" view in Address Book. From there, if you don't have any groups already, you'll want to create one by clicking the "+" button at the bottom of the Group column. A useful one that I use is a group for "Friends." Then from the Name column, simply drag contacts to the name of the group one by one. If you have lots of friends (let's all hope!), select multiple by either selecting consecutive contacts by clicking the first and then the last while holding down the shift key, or non-consecutive contacts by holding down the command/Apple key when clicking on the individual contacts, then drag them to the group name.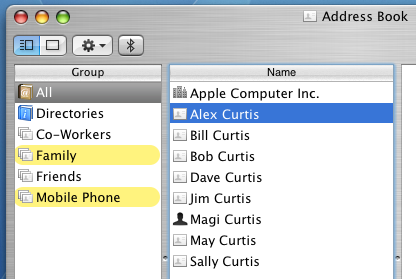 Remember, you can drop a contact into any number of groups, for different lists of people you may want to create. If you want to know which contact is in what groups, select the "All" group in the Groups column, find and click on the contact in the Name column, and then press the alt/option on your keyboard, and you should see that contact's groups highlight.
Groups don't only have to be made of contacts; groups can also consist of a mix of contacts and groups. Meaning, you can have Groups build off of pre-existing groups. For instance, say you have a large family and been really diligent in Address Book and made groups for your sisters, brothers, parents, grandparents, aunts, uncles, etc. But you'd like for there to be a group of all of your family. To accomplish this, just drag all those familial group onto a group called "Family," and all of those individual contacts will pull in (even though they won't display in Address Book)
I noted at the beginning of this post that the information you enter into Address Book will be accessible to other OS X applications. If you keep that in mind, it can help you to decide the different ways you might like to manipulate information you've added to contacts. For instance, knowing that I may want some contacts to synchronize to my phone and not others, I can make a "Mobile Phone" group and when the time comes, have iSync only mind those contacts. Same goes for Mail when creating distribution lists or message-sorting rules.
Searching and Smart Groups
Smart Groups are an easy way to dynamic lists or queries of information you've added to your contacts. This kind of list lets you do a lot of useful searches, like generate a group of friends with birthday's in the next month, that perpetually updates. Find all the contacts that have a web page listed under their name, or an AIM address.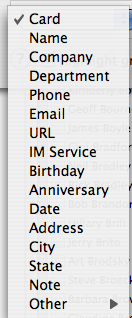 You can create these smart lists in a number of ways, but the easiest is simply to click on the button with the gear and select "New Smart Group…". From there, you'll get a smart group query builder, that allows you to select and combine (with the plus and minus buttons) different fields to customize your query. Once you've named it and clicked the "Okay" button, you'll have your newly generated list ready to go.
Wrap-up
Address Book has a number of other great which we'll get into at a later time. For now, hopefully all you switchers out there have a better lay of the land with Address Book. In the next Back to Basics, I'm going to talk about how you can use your Address Book to make Mail more functional.
If you have any questions, comments, or suggestions for later topics to cover, please leave a comment below.