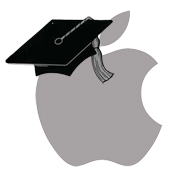 While those in the professional Mac community often enjoy industry-standard content creation tools provided by powerful programs like Final Cut Pro, Soundtrack Pro, Motion, and Logic Pro— there are also many Mac users in the educational arena who have long reaped the benefits of easy to use, intuitive and powerful educational software made by Apple.
Apple has long prided itself in the educational community, offering solutions for both educators and students alike for over 25 years. Because of their continued effort to produce fun yet powerful software like the iLife suite of applications, it's no surprise that recently a group of 10 year-olds from schools in New South Wales, Australia have been producing some extraordinary material.
Recently The MacCast received a letter by Paul Meldrum, Senior Education Officer of the Catholic Schools Office, in Broken Bay. Paul wanted to write and let us in on the incredible work of the students of New South Wales.
Paul writes that his students have been "…diligently producing, what I feel, is some of the finest podcast content available on the web, and all on Apple Macs…using 'GarageBand', 'iWeb' and 'Easy iWeb Publisher' (a very cool utility)."
When at a time when most people don't even understand what the term 'podcast' refers to, (they might make a guess at Mir Space Station Communications) the work of these students really is remarkable.
"Their work is associated with [the] up and coming 'Kids Congress' (a conference for kids organized by kids), and utilizes podcast technology to share their issues with the rest of the world," Paul writes.
Apple's iLife and iWork applications do more than provide powerful production tools with stylish and easy-to-use templates, they do so in an integrated fashion that encourages students to try applying learning from one program to another. Being able to produce material quickly and easily isn't what is most exciting about the software, though- it's being able to produce this content and print, share, or publish it easily too.
As stated on the Apple Education website, "The iLife applications are designed to work together, so students can effortlessly import podcasts they create with GarageBand into iWeb to publish on a webpage, for example, or instantly add images from iPhoto into their iMovie HD project."
It's this integration that Paul is excited about, and attributes to the student's ability to produce high quality content, "From my experience… working with technology in education for over 15 years (on multiple platforms), it is only because Apple computers are 'designed for learning' that such extraordinary work, which allows students to so easily express themselves, is possible. For this I truly do thank Steve Jobs and all of Apple".
Perhaps it's the way that Mac users in the educational arena benefit from the way that learning is initiated and facilitated by the platform. With little computer experience, most new users of Macs find themselves buzzing around the platform after only a few hours of use. The combination of a sense of 'fun' and the clean, simple, yet full-featured interface only encourages young students to get imaginative and creative. It's this initial excitment and wonder that invites students to learn in an interactive manner and defines the Mac experience for many users.
Visit the Catholic Diocese of Broken Bay, New South Wales, Australia welcome page, and see for yourself what these students have been imagining and creating on their Macs.