The idea behind a new program ScreenRecycler is that most Mac users have some old computer sitting right next to their main computer on their desk that is gathering dust. ScreenRecycler is intended to let you use that machine as a second monitor for your main computer.
Installation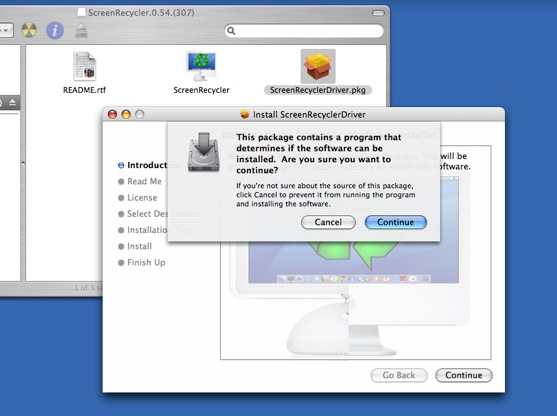 ScreenRecycler has 3 parts, a read me file, the main application and the ScreenRecyclerDriver. The driver needs to be installed on your main computer and the system restarted before ScreenRecycler will work.
Next, you will need to download a program that supports Virtual Network Computing (VNC) on your older computer. VNC is a platform-independent system for remotely controlling another computer. This computer can be either a PC or a Mac (or any other client that can run a VNC client). The authors of ScreenRecycler recommend one of the following clients:
VNCThing – Mac OS X (quick but runs only on ppc)
Chicken of the VNC – Mac OS X (slow but works on intel)
VNC Navigator – Windows (set preferences to high color before connecting)
Running ScreenRecycler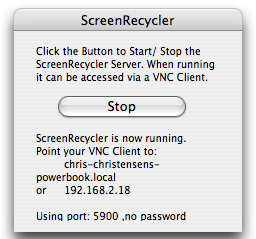 On your primary computer, run the ScreenRecycler program and it will open a very small window. This window will contain the information you will need to use to connect from your old machine.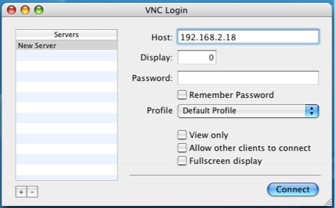 On the old machine run your VNC program using the information from above. When you connect to your main computer a window will open on the old computer which is displaying information from your main computer.
The interesting thing about ScreenRecycler is that it allows you to use this remote machine as a monitor and it will show up in your System Preferences under Displays and can be configured using that mechanism just as you would configure an external display.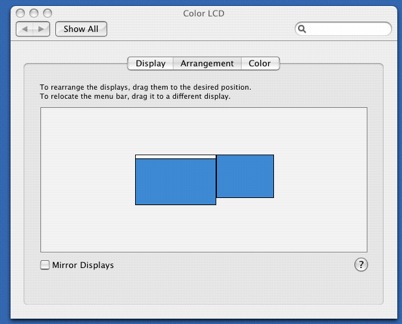 The Good News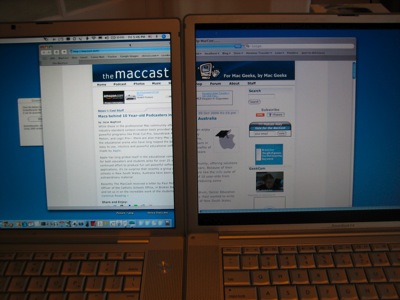 When it works, ScreenRecycler is pretty magical. You can move a window to overlap the two machines just as you could with two monitors. This picture shows the MacCast website on my MacBook Pro (left) and PowerBook G4 (right).
The Bad News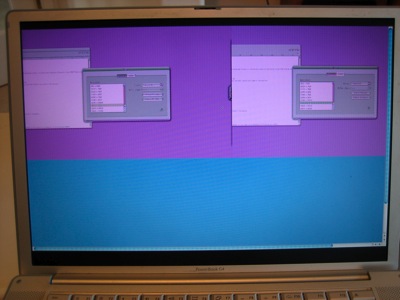 Sometimes VNC or ScreenRecycler gets a bit confused. Although in this case, I was able to fix the problem by simply restarting the two applications which can be done very quickly. ScreenRecycler is still pre-release.
The other problem that I ran into was that both of the computers I was using were connected via Wi-Fi and the redisplay time on the PowerBook G4 was very slow. In that configuration it would mostly be useful only for displaying static information. The ScreenRecycler web site shows a video showing a configuration fast enough to run a video overlapping the new and old machine.