Manufacturer: Belkin
Price: $79.99US
iPod Compatibility: 1G/2G nano, iPod mini, 4G and 5G iPod
More Information: Wirelessly Control Your iPod with the Belkin SportCommand™ for iPod®
On Monday, Belkin announced a rugged wireless remote for the iPod. The target market is for outdoor sports enthusiasts, regardless of the weather. The idea is that you expose the remote to the elements, while keeping your iPod safe in a bag or in your jacket.
The controls themselves are made out of a durable fabric that attaches with Velcro™ to a flexible armband that you wear on the outside of your winter jacket or outer gear. The basic buttons are there—PLAY/PAUSE, FF/REW, and Volume UP/DOWN. They look chunky and tactile, so you can easily skip to the next track with your gloves on.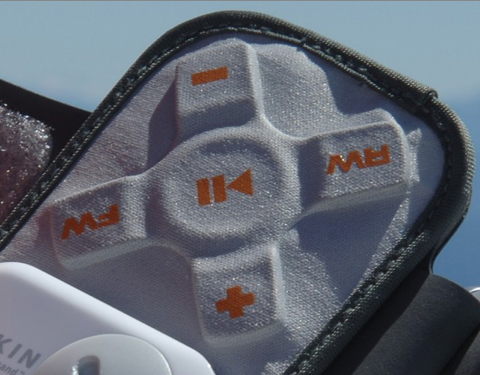 Just below the controls is a screw-tight piece where the battery resides. I read from a large image of the SportCommand that there's an indicator light for battery level, but it wasn't readily apparent where that indicator is on the front of the device. The remotes wireless bits are probably stored inside that same compartment.
The SportCommand remote velcros to the armband, which looks rugged as well.
The press release doesn't show the other side of the equation, that is, the part that connects to your iPod. Also, the SportCommand is simply a remote, you'll still have to run your headphones from wherever you've stashed your iPod to your ears.
If you play hard in in-climate weather, and you don't want to pay to have your iPod built into your jacket, the $79.99US Belkin SportCommand for iPod looks like a great solution.