iSlayer's donation-supported "iStat" is a bit like Mr. Scott's console on the Starship Enterprise: it shows at a glance where you have–and don't have–the power. iStat can be run as both a widget and as a standalone applet, and provides robust reporting on CPU, memory, disk, network and wireless bandwidth, OS/X uptime, and battery life. It sports an attractive console presentation—indeed the elegant design of the widgets is really the important feature here–and each application can be customized to suit your specific tastes in obsessive-compulsive system monitoring.

iSlayer has just issued a minor update to the iStat applets, but has also introduced new dashboard-style gauges for each individual statistical category (they call them "mini-widgets") for those who wish to drop a quick speedometer-like gauge on their desktop. Each widget can look like a speedometer or be tamed to look more like a breakout of the overall iStat text-on-an-attractive-box look and feel. You can mix and match with the mini widgets to find a suitable layout and choose only the stats that you find meaningful.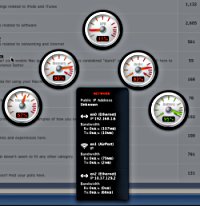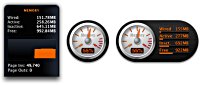 For those who prefer their stats attached to the menu bar, iSlayer is promising "iStat Menus" sometime soon. This appears to be a competitor to the excellent MenuMeters, which has proven indispensable, I reckon, especially among Macbook and Macbook Pro users concerned about heat and CPU performance. iSlayer's strength is simple design elegance, and if these mini-widgets are any indication, statistics-obsessed Mac geeks everywhere have something to look forward to. Check out the large selection of donation-supported downloadable goodies at the iSlayer downloads page.