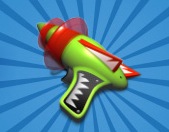 AppZapper 1.8, an application that allows you to uninstall any application, widget, preference pane or plugin was released. When you drag and drop an application to be uninstalled onto AppZapper, it goes through the system to delete preferences, caches and support files that many applications generate when they are launched. This latest version runs on Mac OS X 10.4 and above.
The 1.8 version of AppZapper includes the new UnZap feature. If you accidentally zap an application you can use the UnZap feature to restore the application and its related files. In addition, there are improvements to the zapping engine, support for zapping on localized systems and authentication for non-admin users.
All current users of AppZapper can update for free.
You can buy AppZapper for the low price of USD$12.95. The Family Pack which registers all members of the same household sells for USD$18. A free shareware version that allows you to zap five times before you are required to purchase the software is also available. If you would like more information about AppZapper or would like to purchase it visit www.AppZapper.com