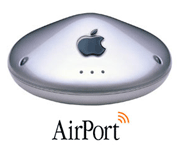 In a series of posts, I'll be exploring the past, present and future of Apple's wireless networking strategy, from 1999 to the impact of Apple's newest Atheros-based Airport cards in the latest Core 2 Duo Macs, and what it means for compatibility and performance in the short and long term.
I'll also be detailing some Airport tips and tricks, as well as covering security, setups, and troubleshooting strategies.
The Wireless Revolution
After 7 years, Apple's wireless Internet and networking solution, Airport, has come a long way, as has the rest of the wireless industry when it comes to networking and internet sharing.
Stability, security, speed, and distance have all improved over the original incarnations of wireless offerings, so much so that Cable and DSL modems offering 'broadband' internet service often do not reach the data speed that wireless networking operating in either an 802.11g or 802.11g capacity can reach.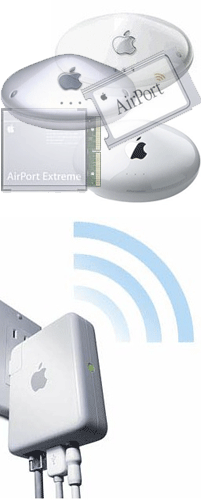 While most business critical and larger networking environments prefer, and sometimes require the faster ethernet-based wired solutions for overall speed and performance, wireless networking and internet usage has become the norm, especially where portable computers are concerned. Home users are quickly adopting the technology, and schools everywhere are offering access to the internet and networks wirelessly.
It's 2006, and wireless networking has exploded, with more and more businesses and residential dwellings converting to the technology. More homes in North America have more than one computer than ever before, and wireless technology is both fast enough and easy enough to setup for most people to give it a try. I'm sitting in a local cafe that offers free wireless internet, and my airport icon shows 8 other networks within range in an urban centre bustling with pre-Christmas buzz.
When leaving Toronto after a meeting a few months back I remember going home on the train, and while looking at all the apartment buildings and housing developments I thought I wonder how many people have wireless internet connections? Opening up the iBook I owned at the time, I thought I'd see just how many wireless networks I could log with MacStumbler. To my absolute astonishment, after passing only 10 apartment buildings and a small slew of joined housing, I logged 158 wireless networks.
Consider that I was inside a train, and well over several hundred feet from the buildings and houses I was logging these connections from.
Sales Upward
The Pelorus Group says wireless data revenues in the United States will increase dramatically through 2010. A research report, "Mobile Browsing and Internet Connectivity: The Rise of Wireless Internet Services," issued by the company reports the following:
The outlook for wireless data content services, including mobile browsing and Internet connectivity, in the U.S. over the next five years is rock solid.

At just over $7.2 billion in 2005, wireless data revenues are expected to surge seven-fold by 2010. Revenues from mobile browsing and Internet connectivity will register a robust growth from just under $1.7 billion during 2005 to $23.6 billion by year-end 2010.
What Is That Alien Thing?
AirPort debuted on July 21, 1999 at the Macworld Expo in New York City with Steve Jobs picking up an iBook supposedly to give the cameraman a better shot as he surfed the Web—the applause quickly built as people realized there were no wires.
Along with the Airport card for new Macs at the time came the Graphite Airport Base Station, a device that looked more like a small alien craft than a router. Apple had enabled it's users (or anyone with an 802.11b compatible card) to connect wirelessly to the internet and network wirelessly, albeit at only 11Mbps. Discontinued in 2004, the original Airport Card is still a very popular commodity, fetching upwards of a $100 U.S. as a result on the used market.
Following the Graphite Base Station was the second generation Dual-Ethernet Base Station, introduced in November of 2001. It was now white, and dubbed 'snow'. This Base Station improved in several ways from the original, and now allowed up to 50 clients over the original 10, had greater range and better encryption support, and was Windows PC compatible. Also new was the ability to connect to America Online's dial-up service—a feature unique to Apple base stations. This model was based on Motorola's PowerPC 860 processor.
It was clear Apple was moving towards grabbing more of the professional market, feeling confident that both internet sharing and networking had a bright future in a wireless world.
For some great software and help guide Airport resources, check out Apple's Airport Software compatibility guide, and Mac 101: Internet Issues for help on configuring your Airport setup correctly, or resolving existing issues.
In Part 2, I'll be discussing the more current Airport technologies, and discussing tools and tips for making the most of your Airport Extreme network.