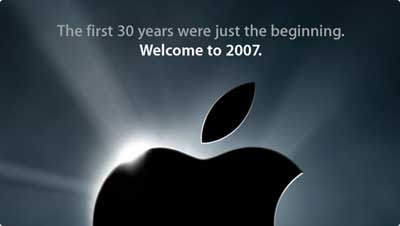 Look what is now on Apple's home page. I think Macworld is going to be ahh-mazing! If you are going to be around in San Francisco next week don't forget about my Thursday night events. You'll find full details here, but at 6:00 PM we have the Mac Podcaster meetup at the Apple Store San Francisco. Then starting at 8:00 PM is the Mac Mingle Party, co-produced with Deb Shadovitz from Mac Efficiency and sponsored by RadTech, TeachMac, iProng, Now Software, and MacSpeech. It should be a ton of fun and I hope you all make it.
On the front page to the Apple website, Apple not only welcomes us to 2007, but they also tease us: "The first 30 years were just the beginning." Below the text is a black Apple logo, backlit with bright beams of light.
Apple was founded on April 1, 1976 and according to Wikipedia, Wednesday, January 3rd marks thirty years since Apple Computer was incorporated. Of course, we're all anticipating big announcements from Apple at next week's Macworld— so this is really a perfectly timed tease. Check back for MacCast MacWorld coverage and be sure to share your thoughts in post comments and the MacCast forum.
Happy New Year, Mac Geeks