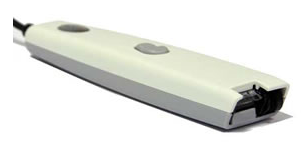 Things that save me time are always high on my list of priorities. When presented with a device that could turn typed documents into useful pieces of text I was up for taking a good look. The product is the IRISPen Executive, which is a small handheld pen type scanner, with a small scanning head that captures three or four lines of text at a time.
From the offset, the IRISPen may not sound that impressive, but it is the usefulness of this little device that wins me over. More often than not I find myself reading something in a magazine and wanting to quote it in an article I am writing, or perhaps email it to a friend or colleague. Under normal circumstances I would have to type it, or scan it and send as an image. With IRISPen I can slide the scanning head over the text and, voila! The text is transferred into MS Word or my email application (for example). This alone saves me so much time.
The pen itself is very light and compact. It connects to your PC or Mac via a USB connection and after a quick install of the included software you are good to go. The printed Quick Start Guide talks you through the simple installation, followed by calibrating the pen scanner. There is also a proper printed and fully illustrated manual, which is great, as so many products nowadays rely on PDF manuals. This is a nice inclusion.
The pen has two buttons on it that can be assigned to various functions, plus the tip is pressure sensitive, so when you push it onto a page and scroll to start scanning, it senses this automatically. Scanning is simplicity in itself. You position your cursor on-screen where you want the scanned text to appear, then start scanning. The text is pulled straight into the application. It is pretty quick and can handle scanning 3.15-inches per second. Accuracy is excellent. The software claims to recognize up to 1,000 characters per second. I had no way of measuring this, but testing scans from various magazines and books I completed twenty scans. During this test I had only three incorrect words, which were easily corrected.
The software has some great features on top of the simple scanning. Things like the ability to read and retype barcodes, recognition of hand written numbers, and even setting pre-defined characters to be automatically erased or replaced in a document.
Now, I am going to be honest here and let you know my initial impressions before I knew the IRISPen was on its way to me. I thought long and hard about how and why I would recommend such a device. It is not cordless and seemed just to simple to have any real use. Well, what a revelation, the only way I can describe the major selling point of the IRISPen is as follows: If you want a small, lightweight scanner, that will save you hours and hours of retyping material that is already printed, buy one. If you often need to quote things you have read, buy one. If you need a flexible, time saving device, that will not break the bank, buy one. Enough said!
Product: IRISPen Executive
Price: $199.99
Supplied by: I.R.I.S. s.a
Contact: 800-447 4744