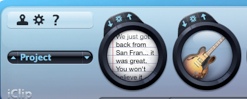 Inventive just celebrated the 4th anniversary of their flagship iClip product and they are marking the event by releasing the 4th generation of the software. iClip version 4 is now available for download at Inventive.us.
Since it's birth iClip has been a valuable multiple clipboard & scrapbook manager for many a Mac OS X owner. The newly released 4 year old has left the toddling stage and is all grow'd up with a brand spankin' new UI to boot. In addition to the added good looks, the new version also offers up some performance optimizations, is a Universal Binary, and is optimized to run on the new Intel based Macs.
"iClip 4 has been a long time coming and we're extremely happy to finally have released it. The user feedback while it was in private beta has been overwhelmingly positive and (we are) expecting it to be very widely adopted now that we've released it into the wild," said John Casasanta, President of Inventive.
iClip 4 allows you to copy multiple times before needing to paste because it keeps a running history of all your clippings. You can also organize and store your clips into logical groups. This makes it ideal for storing and retrieving frequently used text, pictures, web addresses, and other bits.
iClip 4 is a free upgrade for registered users of any previous version of iClip and new owners can pick up a copy for just USD $29.00. If you want to try before you buy, a downloadable demo of iClip 4 is available for Mac OS X 10.3 or later at http://inventive.us/iClip/.