I seem to be the kind of person who insists on using "Pro apps" despite largely non-professional, or perhaps semi-professional, usage. So, for example, I have a lot of graphics apps though I'm neither a pro designer nor professional photographer, and really, I'm not harming anyone (well, permanently at least) by fiddling outside my core domains, right?
So I guess it's no surprise that I am totally enamored of Gaucho Software's Seasonality application, despite the fact that I'm not a true weather geek, and I don't really know why I might want to be able to see independent graphs of wind speed and direction, and even more, wind direction modelled in two different charting styles.
Seasonality is a gorgeous OS X application, a distinctive Cocoa app that makes people stop, look and ask questions when they walk by a display showing its exotic weather maps, satellite imagery, forecast data, and charts of recent weather in your region.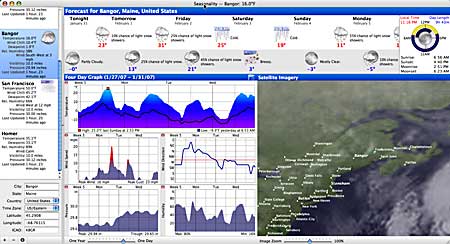 You can enter multiple locations and Seasonality grabs data from a variety of online weather services to assemble its impressive display for each location. The mapping is zoomable and the maps will display your locales — so you see your hometown on the maps, right near the big metropolitan landmarks. The US data seems most robust, but international data is available for many geographies. Seasonality's data is typically the same data and information provided by the major online weather sites, but without the surfing required and without the ad presence.
Once you've entered a few locations, their data is updated on a user-defined interval, and you can change locations to compare your weather with other weather you care about. How are my friends in San Francisco and London faring today? How much colder is Bangor than Boston this week? How much longer until I actually get a life? (It doesn't answer that question, actually.) If you're a more serious weather geek, there are many statistical features to explore in order to support your Fever Pitch-class obsessions.
Seasonality is a standalone Universal application. It might be nice to have a dashboard version of some of these features someday, but it's easy enough to leave it minimized or just load up when you're organizing your day or planning an outing. It's shareware, and you can download and try it out with your favorite locales; non-US users may wish to test their locations to see if the data is robust enough. Registration is $24.95USD for a single user, $29.99USD for a family license good on up to 5 machines.
You might give it a download even if you're not a meteorologist.