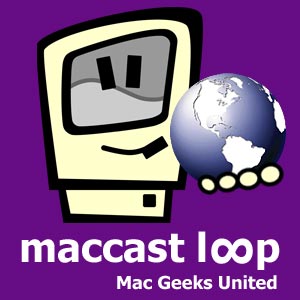 [audio:http://recordings.talkshoe.com/TS-9827.mp3]
Download this show here!


TS-9827.mp3 [27.0MB 01:07:19]
Subscribe







The pilot episode of the new Maccast Loop. "The Loop", is a brand new show and will be produced in addition to the Maccast you have come to know and love. What is different about the Loop vs. other podcasts is that it is recorded live each Sunday at 10:00 AM PST/1:00 PM EST. Using the Talkshoe network and technology we are able to offer live audience participation using text and audio chat. Each week in the Maccast Loop I will go more in depth on the hot topics from the prior weeks Maccast and also take questions directly from the audience. The Loop narrows the gap and closes the loop between podcaster and audience, making you more a part of the show than ever before. If you missed this first edition don't worry, it's still a podcast. You can subscribe in iTunes or by using the links above and then join us live next week. I really hope you like this new addition and thanks for listening.
Maccast Loop – Pilot Episode
In this episode we talk a bit about Airport Extreme and wireless networking, the advantages (and pitfalls) of 802.11n vs. 802.11g, how to locate your Mac's MAC (Ethernet) address, possible podcast updates in iLife '07. Do Mac users need anti-virus? Should we be concerned about viruses and spyware? What are your risks and are we more at risk now that we have technology like Boot Camp and Parallels? RA recent switcher is curious about running XP or Vista on Mac to easy the transition to the Mac way of doing things. Is that a good idea? Do you shift gradually or are you better going cold turkey? Our advice for new Mac owners making the transition. Proof Adam can't spell to save his life, Crucial.com. New iPhone ad due to air during the Oscars tonight. Predictions on what the ad will be. Our thoughts on the rumors of Apple possibly making black iMacs. Recommendations on books and resources for getting started in Cocoa programming. Fixing a stuck key on a new Macbook Pro. Belkin's Express Card 34 integrated smart card reader and what card formats it supports. Listener Heath's thoughts on DRM free music and wondering if DRM builds a potential obsolescence directly into your media. With DRM are we placing a "timer on our culture"? Using Boot Camp Beta and what happens when it expires? What will be the options for continued use of Boot Camp?
Thanks to my audio engineer and producer, Victor Cajiao (Typical Mac User Podcast [iTunes]) and to all the listeners and participants who made it out for the premiere episode.
Links
Coming Soon