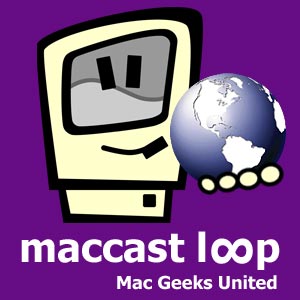 [audio:http://recordings.talkshoe.com/TS-10208.mp3]
Download this show here!


TS-10208.mp3 [28.3MB 01:01:42]
Subscribe







Episode 001 of the new Maccast Loop. "The Loop", is a brand new show and will be produced in addition to the Maccast you have come to know and love. What is different about the Loop vs. other podcasts is that it is recorded live each Sunday at 10:00 AM PST/1:00 PM EST. Using the Talkshoe network and technology we are able to offer live audience participation using text and audio chat. Each week in the Maccast Loop I will go more in depth on the hot topics from the prior weeks Maccast and also take questions directly from the audience. The Loop narrows the gap and closes the loop between podcaster and audience, making you more a part of the show than ever before. If you missed this first edition don't worry, it's still a podcast. You can subscribe in iTunes or by using the links above and then join us live next week. I really hope you like this new addition and thanks for listening.
Maccast Loop – Episode 001
In this episode we discuss hard drives and associated technologies, syncing and backing up your Mac. Will Apple TV and Leopard's new Time Machine feature make us even more dependent on external storage solutions? How will Apple keep files secure with Time Machine? Will Apple release Leopard at NAB? Off site storage solutions and services. Firewire vs USB 2 performance. Why does Apple keep delaying the Apple TV? Does Apple needs to get better HD and 5.1 audio support on iTunes to make Apple TV really appealing to consumers? More talk on DRM and recation to Steve Jobs open letter on DRM. Will Apple provide storage for our iTunes video and audio purchases and give us on-demand access, "iTunes on Demand". Using Gmail for off-site file storage. Apple in school multi-media programs. Fixing a skipping iPod.
Thanks to my audio engineer and producer, Victor Cajiao (Typical Mac User Podcast [iTunes]) and to all the listeners and participants who made it out for the premiere episode.
Links
Coming Soon