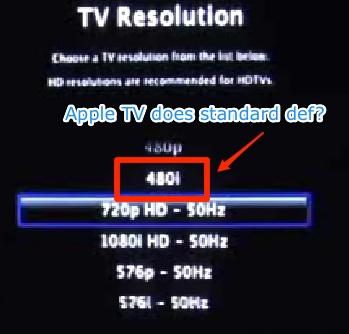 OK. So anyone who has been listening to the Maccast in the last few months knows I cancelled my order for Apple TV and began a rant about how the unit apparently was designed to only work with ED or HDTV sets capable of displaying 480p or better resolutions. Now, to the best of my knowledge my information was accurate and based on the technical requirements for Apple TV from Apple's own Apple TV web site. The tech specs state the Apple TV has compatibility for, "Enhanced-definition or high-definition widescreen TVs capable of 1080i 60/50Hz, 720p 60/50Hz, 576p 50Hz (PAL format), or 480p 60Hz". No where in that spec do I see 480i, do you? So imagine my shock (and horror), when I saw the image (pictured right) of an Apple TV set-up screen pass by as I was watching this video over on Gizmodo. It's a screen for selecting your TV resolution and it lists 480i!!! So have I been wrong this whole time? I even called an Apple on-line store representative prior to cancelling my order and specifically asked if the Apple TV would work with my standard definition Sony WEGA 32″ TV. I was told absolutely, NO. They even reiterated the spec from the web site saying I needed an set capable of EDTV resolutions or better. So, does the Apple TV work with standard definition sets with component video connections? I am now dying to know. Can someone who purchased one solve this debate for us once and for all? If it does, I will be angry and happy all at once as I rush to my local Apple store to get me one. If it does turn out to support a standard definition TV, then my deepest, deepest apologies to those of you who, like me, were led astray by misinformation from Apple.
Update: Well, thanks to Dan in the comments for finding at least one answer. Looks like the Teen Geek guys are reporting over on iLounge that the 480i mode is in there to support some older wide screen non-HD sets, but even that doesn't always work.
Poking through the unit's settings, it turns out that Apple TV was in 480i output mode – we didn't even know it had such a mode until that point – and the i'Art TV was using that mode. So we switched to 480p, and the i'Art TV wouldn't work. So was Apple TV to blame? Only partially: the JVC set is an example of a widescreen, non HD set that doesn't work with Apple TV. And the same 480i mode resulted in a color, but not properly formatted picture on another television we tested. So when Apple says in its tech specs that Apple TV supports 480p or better resolution, ignore the fact that there's a 480i setting, and don't expect it to work on a non-HD widescreen TV.
Oh well. As also mentioned in the comments and covered in my AppleTV special the Mac Mini makes a much better Apple home media center solution anyway.