Apple and AT&T have announced the available rate plans for the new iPhone and they are simple and reasonably affordable. Prior to today's announcement, many had speculated the iPhone may require an expensive data rate plan on top of the already pricey phone. You will require data plan, but the good news is it's included with all of the required 2-year service contracts. Also included with every iPhone is access to the killer Visual Voicemail demoed by Steve Jobs at this years Macworld. With your new iPhone you will have a choice between 3 service plan options. $59.99 for 450 minutes, $79.99 for 900 minutes and $99.99 for 1,350 minutes. All plans include unlimited data (email and web), Visual Voicemail, 200 SMS text messages, roll over minutes and unlimited mobile-to-mobile and a one-time activation fee of $36. Family plans are also available.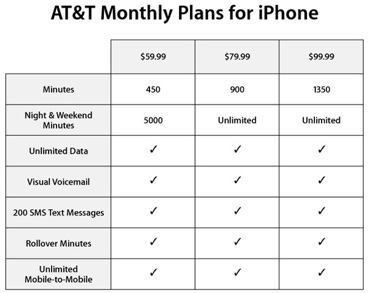 "We want to make choosing a service plan simple and easy, so every plan includes unlimited data with direct Internet access, along with Visual Voicemail and a host of other goodies," said Steve Jobs, Apple's CEO. "We think these three plans give customers the flexibility to experience all of iPhone's revolutionary features at affordable and competitive prices."
With the announcement of this pricing it looks like Apple is poised to make an even bigger impact when the iPhone goes on sale this Friday, June 29 at 6:00 p.m. (local time). You can pick up yours up only at Apple's US retail and online stores or from an AT&T retail stores in the US. The iPhone is available in your choice of the 4GB model or an 8GB model for $499 (US) or $599 (US) respectively.
I have to say for me, prior to this announcement, I had no interest in getting an iPhone. Now I must admit it is looking a bit more attractive. Don't get me wrong, I am still not getting one, but I believe this may push other "on-the-fencers" over to the buying side. Glad I'm not an Apple or At&T store employee scheduled to work this Friday. Good luck fellas!