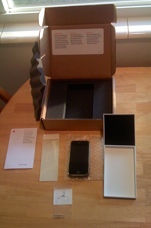 We all know about Apple's meticulous attention to detail when it comes to design. They design the hardware, the software, heck even the packaging to be perfect. After her iPhone started having trouble, listener Lorrie found out that Apple pays attention to detail and design even after the sales has been made. Here is her story…
I wanted to tell you about my experience with Apple. I had my iPhone for 5 days when I realized that it had stopped working correctly. If I used the earbuds, or the speaker, everything was fine. If I held it to my ear I couldn't hear the call and the other party on the call couldn't hear me. I called Apple and went through all the troubleshooting procedures, and the technician determined that it was a hardware issue and needed to be repaired. He arranged a "loaner" for me and told me to send in my own phone when the loaner arrived, that all the instructions would be in the box.
Well the box arrived Monday morning (I had called Saturday evening) and I have to admire Apple's thoroughness. The box iteself has all three shipping labels on it, in layers. I peel off the top label and it has Apple's shipping label, and when Apple fixes my iPhone the final label will send my phone back to me. Inside the shipping box is a pamphlet that explains the process, 3 inches of foam padding with a small white box in the middle (for the iPhone), a pad of shipping tape and a paper clip. I'm not kidding, they included a paper clip in a little baggie. This is because you need a paper clip to remove your sim card from your phone before you send it to them. Apple wanted to make sure I had this high-tech and rare tool.
Leave it to Apple to think of everything.