[ Listen to the interview here ]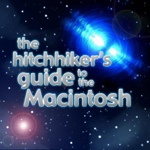 The other day our friend Richard Tanner, who wrote the excellent Hitchhiker's Guide to the Macintosh (HHGTTM) series for Maccast.com, invited me to be on his podcast. It was a ton of fun and we had a great time talking about my history with Macs and Apple and about how the Maccast came to be. I want to thank him for asking me to be on his show.
As for his show, any of you Mac historians out there you should really check it out. Richard took the complete series he wrote here and adapted it to podcast form. I have to say it came out great. He has also added some more recent content to the series, bringing it up to date with the latest developments from Cupertino. When you get a chance head on over, take a listen to the interview, and be sure to subscribe if you like what you hear.