[audio:http://media.libsyn.com/media/maccast/MC20100317SP.mp3]
Download today's show here!


MC20100317SP.mp3 [9.5MB 00:19:40 64kbps]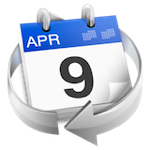 A podcast about all things Macintosh. For Mac geeks, by Mac geeks. A special episode of the Maccast with John Chaffee from BusyMac. John and I missed each other on the show floor at Macworld Expo 2010, but I heard a lot about his product BusyCal (a great alternative to iCal). A couple weeks ago I was able to grab John on Skype and we talked about BusyCal, his past life working on another great Mac calendar app, Now Up-to-Date, and about his impressions of Macworld Expo 2010 in general.
Links

BusyMac – BusyCal and BusySync
Subscribe to the Podcast Feed or Get the MP3 or AAC (enhanced)