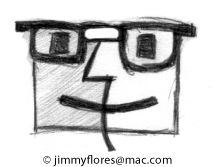 I just go this from MacCast listener Jimmy.
I've been listening to the Maccast for several months now and have even begun to use the forum. GREAT JOB! PLEASE KEEP IT UP. I am a professional graphic designer/writer and I really enjoy the podcast. I listen to it in my car during my commute. The reason for my email is I was doodling several weeks ago and came up with an idea for a possible logo. Well, it has been sitting in my sketchbook with a note to send you a copy for a while now. It is SO funny that when I visited the site tonight I saw that you ALREADY have a new logo already. Anyway, for what it's worth, I thought I'd send mine anyway.

I like the new one, so please don't consider this as a "knock" on it. As I said, I came up with it a while ago, but have just been too lazy to send it. The concept plays upon your intro "for mac geeks by a mac geek" and builds on your previous logo. I got to thinking, what would a mac geek look like? This logo looks like a geeky representation of the Finder, complete with tape covered, horn-rimmed glasses. I thought the over-magnifed eyes made it even more unique. I have attached a pencil sketch for you.