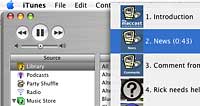 I am proud to announce the first edition of the enhanced version of the MacCast, the eMacCast. I am in the process of submitting the new feed to iTunes, but until then you can use this feed URL to manually add the subscription in iTunes (see instructions below). The eMacCast will be release a couple of days behind the regular feed. It contains the same content, but has chapters so you can quickly jump to specific parts of the show. It also features changing album art and hyperlinks to allow you to quickly reference relevant content. This special version of the MacCast is being produced my MacCast listener Mitch (thanks Mitch). We hope you enjoy this new addtion to the growing MacCast family.
How to subscribe to the eMacCast
1) Get iTunes 4.9*
2) Copy this URL https://www.maccast.com/erss.xml
3) In iTunes 4.9 go to the 'Advanced' menu, Select 'Subscribe to Podcast…', paste in the URL and click 'OK'.
4) That's it the new eMacCast should begin downloading to iTunes. Enjoy!
*You may subscribe with any podcasting client, but will need iTunes 4.9 or a supported iPod to view enhanced content.