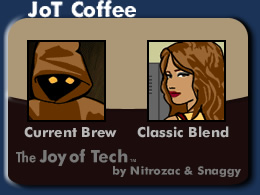 JoT Coffee Widget




– Chad Rebel (Free)
This review will be small, mainly because the application i'm reviewing isn't very big itself. In fact, it's a widget. Day by day goes by with me working behind my desk and falling into a routine of PC applications one after the other. I rarely open the emails in my inbox that have the subject line starting with the phrase "Fw:", because I rarely find a forwarded joke funny or short enough not to bore me. Don't get me wrong, humor is a big part of my life. For example, I enjoy the times that I remember to head over to the Geek Culture's "Joy of Tech" website to catch their latest comic . They are usually short, funny, and not vulgar, but still meant for adults usually carrying a Mac theme. There are two widgets to choose from right now listed on their site to help you remember to stay on top of the funny. Out of the two, I recommend the JoT Coffee Widget.
The JoT Coffee Widget offers two thumbnails within it. One for the current Joy of Tech comic, and the other displaying a random one. While I do think the random feature is nice I wish this was more along the lines of a URL to click on and pull up the website displaying random JoT's from there. Then in turn using the second thumbnail to show the previous JoT so you know you haven't missed one. If you like me, you usually forget to check every couple days, so one sneaks past you now and then. My only other issue with the widget is that I wish they would have enabled a enlarge button, to view the comics in full, straight from the widget itself. This would save a lot of time by just being able to hit the F12 key and see it in it's entirety or even a scaled down version, but instead I have to click on it and visit the site in Safari. Nothing worth me removing the widget from my Dashboard by any means, but I sure would have been more likely to throw them one more star on the review had this been the case.
Final Rating:




(out of 5)
Developer: Chad Rebel (http://www.geekculture.com/joyoftech/joystuff/widgets.html)
License: Freeware
Version: N/A
Product Requirements: Mac OS 10.4 or Higher