A Brief and Warped History of the Mac, part 8 (My Favourite Mac)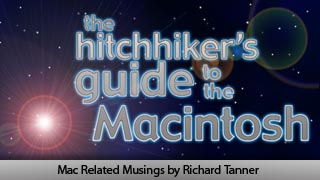 This week, I've been in the mood to reminisce and have been thinking about all the Macs I've owned, used or lusted over. Hopefully, this week's edition will spark a nice thread in the MacCast forums because I'm sure all us Mac Geeks love to gush about which model is our favourite ever Mac.
Way back in the 1980's when I was young and the Mac was just a little younger, I didn't know much about computers, I was happy pottering with the Toshiba HX-10 machine that my grandparents bought me for Christmas when I was 4. Even at that age I could just about manage the simplest elements of the BASIC programming that it required – though I will apologise to my Mum for the hours of copying code into the computer that she was persuaded to do on my behalf.

My next move came several years later, while Macs were still prohibitively expensive for most people. My father enquired in a computer shop what would be the best computer for graphics – other than the Mac. He was pointed toward a machine that I still have plenty of affection for – the Amiga. The Amiga 500 that was subsequently purchased taught me more or less everything I know about the Graphical User Interface and served as a step up into the world of the Mac.
But it was not for a few years that I actually encountered a Mac running in person. The machine that introduced me to the world of the Mac was the most powerful of all the classic Macs – the Macintosh Quadra 950.
For the simple reason that it was the first Mac I'd got up-close-and-personal with and of course it boasting some impressive stats – like a 25Mhz MC68040 processor and 256Mb RAM – I adopted it as my top Mac. Sadly the prohibitive price tag meant I would never get any closer to one than watching the operator retouching some images with it.
A few years passed, and the Amiga had sunk – my thoughts of upgrading to a better model to keep up with technology went with it. By now, I was dealing with Windows PCs on a regular basis at school. Being used to full-on Amiga OS, I found Windows 3.1 to be totally useless, and when Windows 95 launched I saw it as a poor clone of the Mac's interface. It now made perfect sense to me where to go next – I wanted a Mac.
Deciding to plunder the savings account my parents had set up for me, I spent a hefty portion on a computer for myself with the justification that this machine would get me to the end of my school and college career. I bought my first Mac at the time when the PowerPC had completely taken over, but there were still a few older machines floating about.
I chose to go for a high-end consumer model – the Performa 6320. This Mac shipped with a PowerPC 603e processor running at 120Mhz, 12Mb RAM, a 1.2Gb Hard disk and Mac OS 7.5. With a sense of ownerly pride, this became my favourite Mac. I still hold that it has the best styling of any beige desktop case ever designed – though I am painfully aware that it had a badly designed motherboard and suffered from Apple's budget restrictions at the time.
This machine taught me how to use a Mac, and lasted well – like all Macs should. I upgraded it to 40Mb RAM and Mac OS 8.6 by the time I was at University. But of course by now there were new machines to lust after.
The first Mac that seriously turned my head was the Twentieth Anniversary Mac. Apple had phased out my desktop Performa and replaced it with what to me was an unattractive tower – the Performa 6400 / 6500 series. But in 1997, they launched the Twentieth Anniversary Mac. This was a gorgeous silver grey machine with an LCD screen, a flip-down CD-ROM and a sound system engineered by BOSE. While it shared the guts of the Performa 6500 machines with a PowerPC 603e chip, it had every optional extra going – including a TV card as standard.
The next truly desirable Mac was of course the 1998 original iMac but for me for whatever reason it just didn't hit the right notes. It may be partly because I was still happy with my Performa and that the iMac's new USB ports were somewhat daunting, but my eye was still on the beige PowerMac G3. That was of course, until it was replaced with the blue and white model. I thought that this machine looked like a pillow when I first saw it in profile on Apple's website.
After this machine came the updated iMac with it's multiple colours, firewire ports and slot loading CD drive. This machine with its refined look and in its graphite coloured Special Edition became the most lust worthy Mac since I had bought my machine.
But the updated look of the PowerMac G4 was also pretty appealing, largely down to the extreme power the new machines had .
Personally, I preferred the fruity colours of the iMac over the brighter primary colours that were introduced in 2000 – but my next dream Mac was launched at the same event – the PowerMac Cube G4 . This is still revered by Mac Geeks as the coolest Mac ever. It measured a tiny 8″ Cubed and sat in a clear plastic casing. While the Mac Mini is actually 4 times thinner and almost 3 times faster than the Cube, the Cube's gorgeous fan-less design still mark this Mac as something really special. It had great design points like the system for lifting the guts of the Cube out of its outer case with just one handle, and the pop-up DVD drive.
The Cube was much sexier than its full size brother but its lack of relative power led to its sad demise. What was needed in my opinion was a machine to replace it with the design appeal of the iMac but a fast G4 processor. Thankfully That is precisely what Apple delivered next. My next candidate for my favourite Mac is the iMac G4. I am probably somewhat biased because I am writing this article on one right now.
The iMac G4 had a flat-panel screen attached to the gorgeous white dome shaped base with a cool movable chrome arm. This design made the iMac look like an overgrown angle-poise lamp. The best part though was that the iMac was comparable with the full on Power Mac G4 in terms of performance.
When Apple updated to a 17″ screen, I couldn't resist any longer and chose this as my first Mac with OS X. But they didn't stop that and made the iMac G4 even more lickable with a massive 20″ LCD screen on its metal arm.
But of course, being Apple a machine to supersede the iMac G4 in both terms of sex appeal and performance -the world's most desirable computer; the iMac G5. Where its predecessor was cool, the iMac G5 is super chilled. Some people like to point out that the newest iMac lacks some of the design appeal of the previous version, which – being an iMac G4 owner myself, while I partly agree with that – the sheer kudos of packing so much raw 64-bit power into a 2″ slim casing more than makes up for this. Besides the iMac G5 has enough quality design touches to make even the iPod look like it was thrown together in a few minutes. This includes a metal strip in the top for magnetically mounting the iSight camera and having the innards of the computer perfectly balanced so that it can be angled at any direction without any mechanism to hold it at in position. If not for my Mac already being perfectly adequate I would be desperately saving to buy a new iMac.
So is the iMac G5 my all time favourite Mac… No.
There's another Mac I've not mentioned yet- the PowerBook G3. Now, am a huge fan of the new iBooks and the PowerBook G4, and would love one of the most incredible notebook ever developed, which is undoubtedly the 17″ Power Book G4. However, when the titanium G4 PowerBook first came out, I was sad at the loss of the most stylish device that a human being has ever created. The PowerBook G3 went through several incarnations. The last model had firewire ports, and can keep up with current Macs as it can run Mac OS X, 10.4, Tiger. It was thinner than the original 'Wall Street model'.
The PowerBook "Pismo" had a classy black finish with sensuous curves, though many people note that bizarrely the illuminated white Apple logo on its lid appears upside down when the machine was in use.
This aside, it is my opinion that the professional black stylings of this Mac make it the sexiest piece of plastic ever made, and my top Mac.
So to recap, taking factors such as performance as well as looks into account… my choice for top Mac would have to be the iMac G5 . My award for best looking Mac must go to the PowerMac Cube G4. The Mac closest to my heart is the superb iMac G4, but as far as I'm concerned the PowerBook G3 has the style to beat all others.
I love the PowerBook G3 – I borrowed a 'Wall Street' model a while back when I had a lot of work to do, and I loved its curvy shape as well as the rubber finish. I loved having a Mac with more power than most modern day PC laptops and of course the best operating system in the world. For this reason, earlier today, I finally gave in to myself – I went on eBay and I bought one.
A few columns ago, I said that I wanted an iMac G5 – I still do, but the raw sex appeal of the PowerBook G3 was strong enough to make me actually pay out. So now, anyone who donates to the column will be helping my pay off the cost of this. I cannot wait for the machine to arrive – and to write future editions of HHGTTM on it.
I'm interested in other opinions on the best mac ever, and have now set up a poll so that readers can vote http://www.aslk49.dsl.pipex.com/hhgttm/hhpoll.htm
Also feel free to email me your stories of why you fell for a particular Mac, here hhggtm@mac.com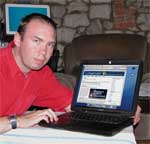 Please address all comments to hhggtm@mac.com.
This column is written by Richard Tanner for the MacCast and may have many omissions and contains much that is apocryphal, or at least wildly inaccurate. The MacCast is not responsible for any opinions and information expressed in this column.
The Hitch Hiker's Guide to the Galaxy was written by the late Douglas Adams who was an avid Mac fan and owned the first Mac to be sold in Europe – on which many of his works were written.