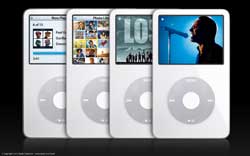 Well looks like I was totally wrong. Despite what Steve says Apple announced the video iPod today along with a new version of iTunes to allow customers to purchase video content. Looks like initially the video content is limited to music videos and some popular ABC and Disney TV shows. I am really excited to see TV content available for purchase at only $1.99 per episode. This could be a huge benefit to us non PVR owners. The new iPods are smaller, but have a slightly larger 2.5″ screen and of course provide video out so you can connect to a TV for a better viewing experience. The new iPod Video is also available in black. Looks like Apple has done a good job here, but they will need to work hard on getting more video content for iTunes. I just hope that there may be a possible software update for those of us with older color and photo iPods.
I haven't had a chance to really explore the mew iMac G5s, but it looks like the big updates are new Front Row media software and a remote for viewing all of your multimedia content (photos, video, music, podcasts, etc), a built in iSight camera with new PhotoBooth application, processor and video card upgrades, comes with a Mighty Mouse and Apple finally ditched the built-in 56K modem (although an external $49 USB modem is available as an option).
Another subtle change was pointed out by listener Charlie. Apple has moved the eMac to the education area of the site.
I am just back from my trip and trying to catch up. I have a meeting tonight, but will try to get a Podcast out soon. We have so much to talk about. Stay tuned.