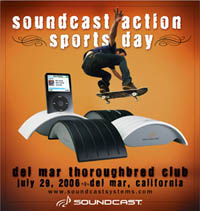 The folks at iProng will be at Action Sports Day, a Southern California event for extreme sports enthusiasts, tomorrow Saturday, July 29th, 2006 and they invited me to hang out at their booth. The iProng booth will feature a variety of iPod-related festivities including demo stations for all current iPod models, podcasting seminars, and interactive demonstrations of the latest and greatest iPod accessories.
Action Sports Day will feature extreme sports stars showing off their skateboarding and BMX skills on a large half-pipe ramp. Athletes scheduled to appear include 2005 X Games Gold Medalist Pierre-Luc Gagnon, Lincoln Ueda, Mike Crum, Chris Gentry, Phil Hajal, Jim Burgess, and more. The event is sponsored by Soundcast Systems, makers of the wireless iCast system for iPod, who will also be hosting a booth.
Action Sports Day will take from place from 2:00 to 6:00 pm, between races at the Del Mar Thoroughbred Club in Del Mar, California on Saturday, July 29th. Admission to the event is $6.00 for adults, or free for children under eighteen years of age. The city of Del Mar is within driving distance of San Diego, Los Angeles, and all of Southern California.