STM Loft (USD $59.95)






Website: stmbags.com (Buy now from RadTech)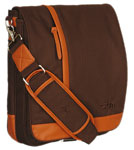 Taking a cue from the latest MacRoundtable Podcast episode I thought I would do a mini review of the STM bags, specifically the Loft bag, as we became a supplier at work a few weeks ago.
We have a range of STM bags in the showroom, but by far my favorite is the Loft. While Sports 2 is the official educational bag for Apple in the US (for good reason; they carry everything a student could need), the Loft is much smaller and suits people like me who like to carry everything we need, but limit ourselves to not carrying the things we don't.
Loft comes in two sizes; medium (15″) and small (13″) and is produced in two color combinations; grey & grey or tan & orange (depending on whether you are a PC user or a Mac user). The bag seems incredibly small when you get it in your hands and yet holds a lot. I took a medium sized bag and tested it with all my work papers and pads, a 15″ MacBook Pro, power cord, Ethernet cord, iPod connector and a range of other power cords I typically carry and it was great. My iPod fit into the small pouch on the strap, the notebook felt very secure and protected with the padding and extra "lid" on the Loft. It genuinely felt lighter than carrying the exact same stuff in my usual setup; a regular backpack with a cheap notebook sleeve in it.
I think build quality is one of my biggest concern with notebook bags since my current backpack is starting to wither. The straps (on my current bag) are coming apart from the bag, the bottom is looking thin and overall I don't want to carry any real weight in it anymore. With the Loft however the build quality is such that I would feel comfortable carrying anything in there, especially with the extra padded strap so your shoulder won't hurt. It feels strong both in the materials and in the stitching. In addition, the strong metal clasps on the straps (something most manufacturers cheap out on with plastic) make it feel even more secure and make me believe it's robust enough to last for a least a few years of good use.
Of course it looks great and not at all like a laptop bag, so I would feel more secure walking around town with it (the reason I have my current setup). In short; I am getting a small one as soon as possible in the hope that I will someday be able to afford a MacBook. I love it, and can sell this product just like I do my Macs; with absolute confidence in every aspect of it's design and ability.
One final note to you Mac Mini owners; you may want to checkout one of STMs other offerings, the Mac Mini lunchbox. One thing is for sure, STM knows how to appeal to an Apple owners sense of cool design.