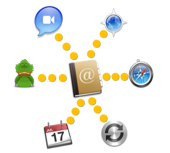 A little bit of information can go a long way—this is especially the case in Mac OS X. As you may have read in my previous two posts in this series (1 | 2), taking some time with your Mac's built-in Address Book app can pay off in spades in functionality in other applications. Last time we looked at Mail app, this time, we'll take a quick look at a few native and 3rd-party OS X apps.
Browsers
Didn't think that your web browser would bother looking up information from your contacts? Think again. There are at least two web browsers made for OS X that will allow you to look up a contact's website, without even launching Address Book.

Safari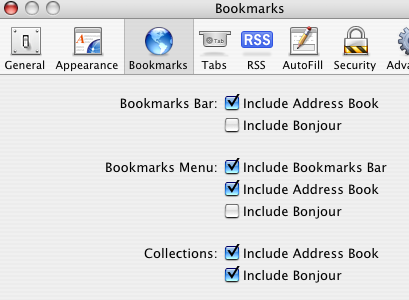 Depending on the way you've setup Safari, you may already have Addresses available on your Bookmarks Bar. If not, open your Safari's Preferences from the Safari menu (or "Command-,"), select the Bookmarks icon, and check the first box labeled "Include Address Book". You might also want to enable this in the Bookmarks Menu, just below.

Now in Safari, you should see a Address Book bookmark button, that drops down to list contacts with URLs added to their contact information from Address Book.

If you click on the little book icon, to show all bookmarks, in the Collections column, you'll also find the Address Book collection, which lists the contact and URL, with a convenient search box at the bottom (which allows you to search all your bookmarks or only the Address Book).
Camino

Camino (which is currently my browser of choice), won't add an Address Book bookmark in the main window like Safari, however if you select the show/hide Bookmark button, you'll see a similar Collections list in the left column, where you'll find the Address Book. Extra Keyword and Description fields can be added to each bookmark here as well.

Instant Messengers
Associating contacts with their AIM "handle" or any other instant messaging service user account really comes in handy. Not only can these apps automatically replace the non-descriptive username with the person's real name or nickname, but you can do some other neat tricks as well.
iChat & Adium

Both iChat and Adium handle contacts really well. Both can group a contact's different IM accounts and display him or her as one "avatar." The contact can either take on the mugshot you've assigned to it in Address Book, or you can allow the contact to provide his or her own icon:
In iChat, from the Buddy list, if you'd like to over-ride the contacts icon, you have to select the person from the list, Get Info with "Command-i", and then check the appropriate check box to force iChat to use your mugshots from Address Book. If that contact is not already associated with a contact in your AB, use the "Choose Address Card…" button to associate that user with a contact.


In Adium this is done in the Preferences (from the Adium menu or "Command-,"), select Advanced, and then Address Book. Here you'll find the different options for Adium to pull info from your Address Book — which icon to use, the contact's name (you can choose full name to include middle name or a nickname), and whether you want to combine contacts on a single card.
Another neat feature you may not know about is that you can IM mobile phones if you have an AOL or .Mac account and you're in the US (I'm not sure if this works outside the US—if it does, please leave a comment). It's really not an IM, rather, AOL will relay the message through an SMS gateway to a selected mobile phone. You can do this manually in both iChat and Adium, but since we're talking about integrating Address Book with these apps, it makes more sense to first add the pertinent info in AB.

So, in Address Book, find a contact who you might want to send a mobile phone SMS message to. Select them, and click the Edit button at the bottom of the screen. In the instant messenger accounts section, add a new one by clicking the green circle with a "+" in it, and then add the person's mobile phone number, with area code but with no dashes or spaces, and at the beginning, add a "+1" without the quotes. For example, if I wanted to add the number: "202-555-1212", I'd enter "+12025151212", again, without the quotes. Make sure you've also made this an AIM account, or else it won't work. It perhaps goes without saying, but the number you enter must be a mobile phone number, as regular phones typically can't receive SMS messages. Also, although this won't cost you anything, it may cost the person you send a message to—so be kind because the cost of chatting over SMS can add up.

After you do this, in iChat, if the person is not online via IM, but you have entered their mobile number, you'll see "Mobile" listed under their user account in the status area. Just click on their name to send them a message via SMS.

In Adium, depending on how you have your Contact List setup, if the person is not online but you have entered their mobile number, you'll see a little WiFi / wireless symbol next to their name. If you hover over the name, you'll also be able to see what instant message services are available with that person and which ones are online. Just click on the name to send a message via SMS.
When the window pops, enter your message. After the first message you enter, immediately after you should receive a message from the AOL SMS gateway server that reads:
Your IM has been sent to my mobile device. When I receive it, I will be able to reply. Thanks for your IM! Want your IMs forwarded to your phone? Click here.
If you don't see that message immediately, you aren't setup correctly. Check back in Address Book to see if the number is formatted correctly and that it's using the AIM account. Make sure you're logged-in to your AOL or AIM account.
iCal
This one is pretty straight-forward, but is often missed. If you've added friends' birthdays in Address Book, a check of a box will help you remember them iCal.

Select Preferences from the iCal menu (or "Command-,"), click the General icon, check the box labeled "Show Birthdays calendar," and then close the window. Now you should see a read-only calendar in the color red appropriately named "Birthdays".

Read-only? What the?! Yeah, I know, how lame! In the latest version of iCal (ver. 2.0.4 in Mac OS X 10.4.8 Tiger), AB to iCal is a one-way street. This means that out of the box, you can't have iCal alert you of someone's birthday ahead of time, like you can with other iCal events. But just because Apple doesn't provide the functionality, doesn't mean 3rd party apps can't. I'm not going to cover them here, but here are two options that may help: Dates to iCal and iCalFix.
Synchronizing Devices
As you may know, I run a site called MacnCell.com which tries to help Mac users get their mobile phones in step with their Apple laptop or desktop. On MacnCell.com, I try to let people know about different apps that do the job. iSync is OS X's built-in application that helps accomplish this, but it's not the only one out there.
iSync

iSync is Apple's built in application that coordinates the synchronization of your AB contacts and iCal events with a number of your mobile devices and online services.
You may have tons of contacts added to AB, or maybe of the few you have, there are some that you don't want taking up precious space on your mobile phone. It makes a lot of sense to create a Group in AB for just those contacts you want on your mobile phone. Once you do that, in the settings for your mobile phone, you can tell iSync which Group you want sync'd to it.
Each phone is different as to what bits of contact and event information it will store.
Although it tries, Apple can't support every mobile phone out there, so there are some other niche apps that pickup where iSync leaves off. These apps allow you to synchronize the data you've got in Address Book and iCal with your native-Apple-unsupported mobile devices.
Mark/Space offers MissingSync which can help you to keep your Palm, Windows Mobile device, PSP, and even your Macs in synchronized.
PocketMac provides similar synchronization capabilities for PocketPCs, Blackberry / RIM devices, PSP, and even the iPod.
DataPilot also provides synchronizing software for lots of mobile phones that go unsupported by Apple.
There are other apps that support other phones. If your mobile device is not supported yet by iSync or one of the above apps, you might have a look on the Sync-Apps page of MacnCell.com where I try to keep an updated list of which app supports what mobile phone.
Wrap Up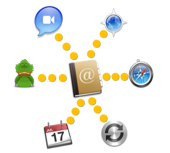 That's it for now. If you have any more apps that share this kind of information between them, please spread your wealth of knowledge by leaving a comment below.