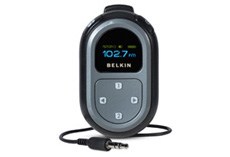 On October 11th, Belkin announced a universal FM transmitter that can be used with MP3s, portable DVD players and other devices using the 3.5mm headphone jacks. TuneCast 3 is reported to be an improved version of TuneCast II, offering greater ease of use and a status indicator.
You can use TuneCast 3 to listen to music and movies through your FM stereo. With a battery life of 20 hours it is great for long drives. If you don't want to use the battery, a power code is also included.
You can purchase TuneCast 3 in North America beginning in November. Sales in other regions will follow. If your car doesn't come factory equipped to connect your iPod or you use a portable DVD player, TuneCast 3 is a great solution at an affordable price, just USD$49.99.