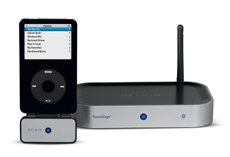 Belkin announced the TuneStage II on Wednesday. TuneStage II allows you to play your iPod wirelessly through your home stereo using Bluetooth. In order to use TuneStage 2, you would connect the transmitter to your iPod and wire the receiver to your stereo. You can use your iPod to control the music playing through your stereo from over 30 feet away. If you own the iPod Nano 1G/2G (aluminum) or iPod 5G, you will also be able to remotely control the volume.
Available separately, is the TuneStage II Transmitter. With the TuneStage II Transmitter, your iPod can be connected to stereo headphones and car stereos that come with stereo Bluetooth technology.
TuneStage II is compatible with the following iPod models: iPod nano 1G/2G, iPod mini, and the 4G/5G iPod.
You can purchase TuneStage II starting in late November for USD$149.99.