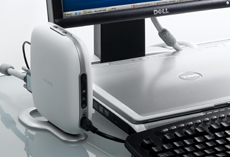 Update/Note from Editor: I have been able to confirm from Belkin that at this time this product is not Mac compatible. A Belkin spokesperson has said the company is working on Mac compatibility and are planning support for Macs. When Mac support is added we will try to get a unit for a full review and update.
For a Mac-head who uses his laptop as a portable desktop, plays videos in the corner of an external monitor while working, and has lots of stuff to plug in, the Belkin Notebook Expansion Dock might be a great tool.
The word "might" is important here because although Belkin's information page says the dock will work with any laptop with an ExpressCard port, e.g. a MacBook Pro, Belkin never mention's OS X, only Windows XP and Vista.
Despite this oversight, the Notebook Expansion Dock looks promising. First, it connects to the laptop through the ExpressCard port, which gives the dock a reported 2.0Gbps, offering plenty of bandwidth for streaming video to a monitor without depleting performance from the veritable plethora of USB devises a confident geek might use.
For a mere $199.00 (less than 10% of price of a MBP), this dock provides a myriad of ports and functionality:
High-resolution, DVD-quality video output through VGA or DVI ports
5.1 surround-sound support through optical or 3.5mm outputs
Five (5) USB 2.0 ports, including 2 top-load USB ports for easy access by thumb drives
10/100Mbps Ethernet access for instant connection to multiple external devices
To save desk space, the dock sits vertically, like many current external hard drives. This form factor also helps with heat dissipation from the internal graphics processor.
The Notebook Expansion Dock looks like a great tool, is the first dock to take advantage of the ExpressCard port, and is slated to ship at the end of November; but before adding it to that overflowing Amazon wish list, wait for a few user reviews and for those edge dwellers to let us know if it actually works with a MacBook Pro.