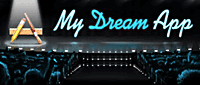 The final round of judging for My Dream App has begun. Guest judges for this round are Steve Wozniak, co-founder of Apple; Guy Kawasaki, the Apple evangelist; J. Allard creator of Xbox and Zune; Bruce Horn creator of "Finder"; and Amber MacArthur, G4TechTV personality.
The contest has been underway for the past month, with elimination rounds each week. Voting ends on Tuesday, October 24th at 8 PM EDT when three winners will be announced. The winners will see their ideas turned into Mac shareware applications.
Users who vote this round will receive a copy of Overflow 2 (USD $14.95) and PhotoPresenter (USD $7.95).
My Dream App was created by Phill Ryu. If you want more information about the contest visit My Dream App (http://mydreamapp.com).