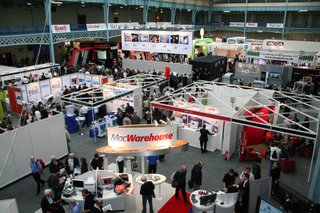 Mac Expo London – End of Day One: Wow, what a busy day, trying to split my interest with the big players and the smaller vendors too. My day kicked off with the Quark launch of 'Quark Interactive Designer' posted online earlier today. The most important note of this launch (apart from a great product) is the pricing. Grab it now whilst it is on special offer for just £69, but fear not, even the full asking price of £139 is very good.
Onto the main Mac Expo show floor and things are very busy from the off. There is a lot of buzz and visitors seem genuinely enthusiastic. The one thing I picked up on very early was the number of people I heard discussing a MacBook purchase. Asking a few of them after their initial questions to Apple revealed that they were new to Apple. I must have spoken to at least twelve new users that had made their first Apple purchase at the show.

Apple's stand was very busy. They had banks of MacBooks, MacBook Pros and iMacs. The MacBooks were generating the most interest. My eye strayed to the massive screen real estate of the 24 inch iMac. I had not seen one in the flesh before today. I must say, this iMac is absolutely stunning. The screen is bright and just how the stand supports it is amazing. Another one for the shopping list.
There were plenty of Apple staff on hand to ask questions and give demonstrations. Alongside was the Apple Theatre, where apps were demonstrated throughout the day. This was broken up by product showcasing to bring visitors up-to-date with all of the current line-up.
One stand that I really loved, because of their friendly attitude, was Crumpler. The bags from the Crumpler camp are great (I use one myself). They had a few new bags at the show (names may be different in the US).
The Glory Box is specially for the new MacBook. It is a very light bag, with a removable laptop sleeve and just about enough room for a few accessories. It is available in red, black/white and olive, sporting a reflective strip on the front. Retail price is £85.
The Double Charge is slightly bigger, again with a removable sleeve. This bag is suitable for upto a 15.4inch widescreen and again weighs in at £85.
Crumpler bags are made specially for Apple laptops, so be sure to check out their website when choosing something to carry you pride and joy!
Of the smaller vendors a few stood out. Razorlab were there showing their iTattoo service. Laser engraving on your iPod or laptop, it looked really impressive and not too expensive. Apart from adding an individual look to your gear, it also makes it pretty unique, so not as appealing to would-be thieves.
iTango, also covered in an earlier post, launched their iTango dock. This was very neat, with an integrated cable tidy and the ability to dock your iPod whilst it remains in a silicone or hard case.
There were so many vendors to get round, that to write one long post it is probably better I sign off now. Check the individual articles that will be up online over the next 24 hours for more in-depth details. Plus a show roundup featuring the 'Best-of-Show' on Saturday. Until then… enjoy the coverage.