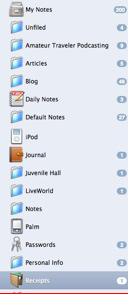 What do you do when you have a lot of little pieces of information: passwords, notes, ideas of what to blog for MacCast, show ideas for your podcast, frequent flyer numbers, receipts, etc. The shoe box under your bed has gotten full and using the Stickies application only gets you so far. One option for managing this collection of information is SOHO Notes from Chronos. SOHO Notes is an updated version of an older program from Chronos called Sticky Brain.
The simplest way to put information into SOHO Notes is to open up the application, choose a folder in your hierarchy and then select new note. You can then find this note again by browsing the hierarchy of folders you have created or by searching for it (very quickly) from the SOHO Notes search icon on the menu bar of your Mac (or using Spotlight). So far so good, but not worth the $40 that this program will cost.
But SOHO Notes will allow you to store and retrieve more than just rich text notes. You can also store bookmarks, web archives, PDFs, images, movies, audio, and other attachments. But, you say, I can already create all of those types of files in the file system and search for them using spotlight. Go ahead say it, I'll wait.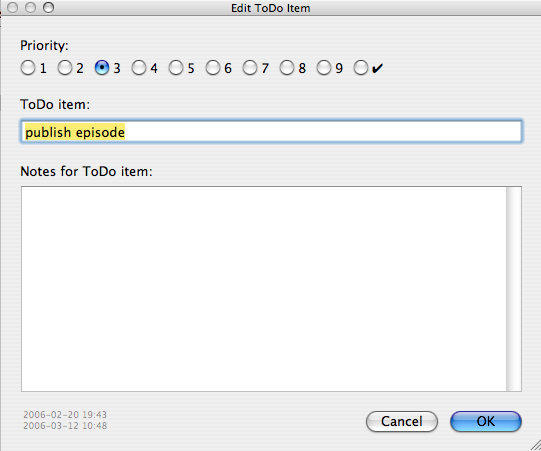 Here is what SOHO Notes adds:
The ability to publish to blogs that support the Atom API (e.g. Typepad, Blogger)
A dock that sits on the right side of your screen in a drawer that can be opened or closed to get pieces of information into or out of SOHO Notes simply
The ability to sync notes to your iPod and/or Palm
The ability to set alarms on particular notes
The ability to sync this information to multiple Macs using a .Mac account
SOHO Notes can be used as a shared server on your local LAN for a multi-user database
Notes can be made private to protect them with a password
Notes can be linked to other related notes
Notes can be linked to a person or company in your Address Book
SOHO notes is not a perfect solution. It lacks some things I would like in a personal information manager like prioritized lists and integration with the calendar (which Chronos does using a separate package called SOHO Organizer). The interface for linking a note to a person is not intuitive. You open up a Address Book browser and can link or create new notes from that window. But if you need some help getting yourself organized SOHO Notes can be a powerful tool.