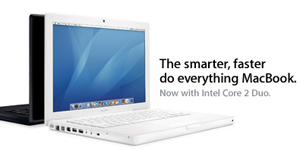 As previously speculated at Appleinsider.com, Apple announced brand new Core2Duo MacBooks on November 8th, an update to its immensely popular best-selling notebook series.
In an overview, the new notebooks sport Core 2 Duo processors, in the same speed categories as the original MacBooks (1.83GHz, 2.0GHz) with the 2.0Ghz models seeing a bump in 4MB shared L2 cache from 2MB on the 1.83GHz and former models.
Other changes to the hardware include 1 gigabyte of RAM standard on both 2.0 GHz models. The White 2.0GHz series also features an 80 gigabyte 5,400rpm drive with the Black 2.0 GHz model now sporting a significantly increased 120 gigabyte 5,400rpm drive. All models can be custom configured wth up to 2 gigabytes of ram and up to a 200-gigabyte 4200rpm hard drive.
The new MacBooks retail for the sames prices as the former models, at $1,099 for the 1.83GHz White, $1299 for the 2.0GHz White, and $1499 for the 2.0GHz Black model respectively.
Additionally, the new 2.0GHz MacBooks sport 6x DL-supported super-drives, a welcomed addition to the line which had a modest 4x super-drive originally.
According to Apple's press release, the new MacBooks "are up to 25% faster than the previous generation".
It's not clear whether there has been many changes 'under the hood' yet, as the new Core 2 Duo MacBooks are designed identically to the previous models on the exterior. Some Apple fans and would-be MacBook owners have speculated in forums already that Apple has made revisions to the internal layout of the MacBooks to avoid continuing issues with shutdowns and heat, as well as other anomalies.
The new MacBooks are available for sale immediately on Apple.com. New MacBook featuring Intel Core 2 Duo!