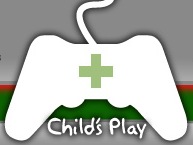 Here is a great opportunity to spread a little holiday cheer this season and pick up a great Mac app or two at the same time. 12 Mac developers have teamed up
Child's Play, a Seattle-based charity started in 2003 by the guys at Penny Arcade. Child's Play collects donations of toys, games, books and cash and delivers them to sick kids staying in children's hospitals across North America and the world. To date the charity has collected over a million dollars in donations.
This year several Mac developers have joined the cause and organized Child's Play Day. On Thursday December 7th if you purchase any one (or more) of the 17 products from the 12 developers listed below, 100% of the proceeds from your purchases will be donated to Child's Play. To participate you just make a regular purchase through the various online stores (on Thursday) and then the money will be collected and sent to the charity. It's simple and you will help bring the joy of gaming to a sick child over the holiday season. Of course, you can also donate directly to Child's Play by visiting http://www.childsplaycharity.org
Chimp Software (Store)
iRooster — Wake up to the world's best music–your own–with iRooster, the Mac OS X alarm clock.
Clickable Bliss (Store)
Billable — Helps you keep track of the billable services you perform for a client and then lets you create and manage invoices based on those services.
Code Sorcery Workshop
Pukka — Fast, light productivity booster for people who use the del.icio.us bookmarking service. Multiple accounts, tag completion, private bookmarking, full AppleScript support, keyboard navigation, Growl, and much more. Stop waiting around and start bookmarking faster!
Elgebar Studios
Freeze Frame — Allows you to completely freeze an application, making it use absolutely no CPU cycles.
Pencils Down — Lets teachers create tests quickly and painlessly.
Flying Meat (Store)
VoodooPad — A personal desktop wiki. You put your brain in it.
FlySketch — Draw, highlight, everywhere.
FlyGesture — Move a little, do a lot.
Happy Apps (Store)
WebnoteHappy — Organize and remember the web pages that matter to you with WebnoteHappy – a better bookmark manager with tagging, note-taking, and del.icio.us integration.
Houdah Software (Store)
HoudahSpot — Your files at your fingertips. HoudahSpot is the frontend most Spotlight users don't know they're missing. Find files you didn't know you had.
Martian Technology (Store)
SlingShot — The easiest way to keep your iTunes music (and your files) in sync between two Macs.
LifeBoat — Back up your important data on your external drives, instantly.
Mere Mortal Software (Store)
Safe Place — Securely store your passwords, credit card numbers, software activation codes, or any other information you want to keep handy and safe from prying eyes.
MK&C
Knox — Simply secure encryption and backup.
Prosit Software
iDictionary — Dictionary & Thesaurus Tailored For Your iPod
App Stop — Take Control Of Your Applications
RQS (Store)
Rolling Credits — Make typographically stunning — visually pleasing — completely unboring movie credits.