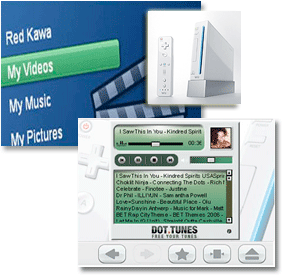 In addition to being glossy white, the Nintendo Wii is quite Macintosh friendly from a network perspective. Wii will play nicely with your Mac even at this early juncture in the it's lifespan, with more (wired and wireless) innovations coming shortly.
Today, there are a few notable applications to get you started playing your iTunes music , watching videos, and showing photos using your Wii and all can be ready in a matter of minutes using your home network.
Get your iTV now, by using your Wii
Here's a nice and easy way to stream media content off your Mac and onto your Wii. Red Kawa has released the Wii Media Center X server. Red Kawa had this to say…
"Wii Media Center X is a free multimedia server developed by Red Kawa. It allows you to stream certain types of pictures, music, videos and files from your computer (where the server running) to your Nintendo Wii. It runs on most major operating systems including Windows, Mac OS X and Linux.

Videos – Wii Media Center X lets you stream and watch videos in the Flash video format (FLV) on your Wii.

Music – Wii Media Center X lets you playback MP3s on your Wii without the need of an SD card.

Pictures – Red Kawa Media Center lets you view pictures on your Wii without the need of an SD card.

Files – Wii Media Center X lets you browse your files located on your server."
Red Kawa goes on to offer tutorials on how to create the various types of media that the software uses as well as setting everything up correctly. There are caveats, however, as this software is in Alpha, and there are known issues.
Now that the Wii Opera Browser has finally been released, we were finally able to test Wii Media Center X on the Wii and like a lot of you have mentioned, we've also noticed that there are major issues.

Since the Wii browser only supports Flash 7 and does not support LiveConnect, you will most likely encounter problems using the slideshow or my music features. Also there are reports of choppy video in the My Video's section.

We wanted to let you know that we are aware of these issues and are working on fixing them. Our plan of attack is to first get the Video section working well and then move onto the other sections.
A WiiPort Express with DOT.TUNES
DOT.TUNES, a flash-based web application that allows you to Stream music across the internet securely with friends, family and clients, now has a web-tutorial showing how using the Wii's custom Opera Browser can be turned into an iTunes streaming music destination, in a few clicks.
Step 1 – Visit DOT.TUNES and download the Mac or Windows application. It comes with a 15 day full featured version so you can get it up and running before the need to register.

Step 2 – Launch DOT.TUNES, open the preferences and create an admin user/pass to secure your music and access advanced features.

Step 3 – Login to your new music server with the user/pass you created.

Step 4 – Click Admin Controls to view the Advanced functions including the Flash Control Center.

Step 5 – Finally, use the Flash Controls to select which artist, album or playlist you would like to stream, how many tracks to display etc.

That's it.

The Flash Player will then appear on your Wii Opera browser and you can play all your mp3 files through your telvision audio system.
I'm sure more innovations with media integration and personal computing will follow with the Wii, as the 2 UB 2.0 ports on the back of the player prompt possibility and potential for plugging in an external drive with media on it and using it to play movies, music, or even act as a NAS (network Attached Storage) solution.
If you've got yourself a Wii already, be sure to try the above apps and post a comment on the ease/quality of use. I'm still on my own personal Wii hunt, which, with any luck might end this afternoon.