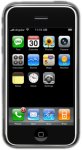 A previous post on the MacCast blog discussed some practical predictions on Apple's iPhone, and the MacCast community commented on it. Some aspects we collectively got right, others not so much. Let's take a look.
How Apple would create iPhone
Prediction: Not from bottom up.

Reality: from scratch.
I underestimated Apple's dedication to this device. Yes, they created the iPod which is a data retrieval device. I thought because the iPhone was a different animal, one that both retrieves data, but creates it as well, that Apple wouldn't spend the resources needed to build a mobile device. Boy, was I wrong. Severely wrong.
Of course, Apple did what it always does. It went in a new, unexplored direction, thought about how the ideal mobile device would work, and then painstakingly executed on that ideal building from their existing technologies and inventing new ways of interfacing with a mobile device.
Operating System
Prediction: Symbian S60

Reality: OS X
What I said:
Would Apple invest the time to engineer a mobile OS for a much more capable handset? Start with iPod functionality, add making calls, texting, emailing, adding phone numbers, playing games (oh wait, we have that on iPods now, dern!), surfing the net, taking photos, etc. There's a lot of work that goes into a mobile phone, and even though Apple secretly developed OS X on Intel, I doubt that lab has shoe-horned Tiger onto a RAZR.
I also said that I thought it'd just be a gussied-up version of S60 with slick UIs crafted in Flash. Wrong.
Clearly Apple took the time and they did the work—over two years on one device. It's not a RAZR, but they apparently poured the OS X secret sauce into a mobile device. To me, it is perhaps the most amazing mobile device. Ever.
Design
Prediction: Far better than Motorola collaboration, intuitive Jonathan Ive-ish hardware.

Reality: Way far better than anything in the market, ever. Intuitive Jonathan Ive-ish hardware.
I may have been right, but it was an understatement.
Browser
Prediction: Safari

Reality: Safari
Yes, it's Safari, but I know, it's not really what I predicted (specifically on Symbian S60, not on a mini version of OS X).
Synchronization
Predition: Via iTunes

Reality: Via iTunes
In the post where we discussed how the iPhone would interface with the Mac or PC, we said it would continue to work the way Apple had interfaced with the iPod—which is via iTunes. iTunes currently acts as the content and data manager, and there's no reason for that to change. Apparently Apple agrees.
Platform Development
Prediction: Symbian S60, open development platform; fear that Apple would keep development platform closed.

Reality: Not S60; reports that development platform is closed.
This one I, unfortunately, may have been partly correct, though I really wish I were completely wrong. It's not the Symbian S60 platform, where an already healthy developer community exists. Instead its a version of OS X. Development-wise, you might think this would be a bonus for the Mac platform. But there are reports that Apple will act as a gateway to the iPhone and that the platform is otherwise closed off from developers.
If true, I believe this is a gigantic miscalculation. I can understand two reasons for why Apple would do this. One is to protect the GSM network to which the iPhone attaches. I believe this to be bogus because there are plenty of other smartphone platforms like Palm, Windows Mobile, and Symbian, that all attach to both GSM and CDMA networks and are all open to development without risk to the underlying network. Two, I believe may be anti-competitive, and if maintained in the long run could harm the progress of the iPhone.
On the issue of third party apps running on the iPhone, Steve Jobs is quoted in John Markoff's recent NYTimes.com article as saying:
"These are devices that need to work, and you can't do that if you load any software on them," he said. "That doesn't mean there's not going to be software to buy that you can load on them coming from us. It doesn't mean we have to write it all, but it means it has to be more of a controlled environment."
I'm not sure which way that statement leans, but hopefully this rumor is not true and we will know more when the phone is closer to release (and maybe even more with the release of Leopard).
But enough about what we rightly or wrongly predicted—what do you think about how the iPhone turned out?