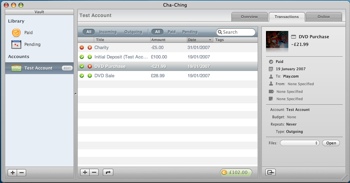 I find dealing with money boring, but at the same time if I have a spending spree my online banking access is not always bang up to date. This can sometimes cause me a problem, as I have all my fresh shrunk wrap purchases on the table, but don't know if I have enough left for a steak 'n' chips or if I will have to manage with cheese on toast.
This is where Cha-Ching steps up to the mark. This superb money manager from Midnight Apps promises to breathe some fun into managing your money. Well, the title gives it a good start, as do the icons within the app. Everything has a feel good factor.
Most of the time the app is split into a three pane view. The vault on the left gives you quick access to your paid and pending transactions, as well as an account list. Setting up an account is easy, you name it, assign a bank name to it, starting balance, and type of account. You can choose from checking, savings, credit or online. There is even space to enter the URL of the bank, which can then be viewed at any time using the 'online' tab, instead of having to go into your internet browser. Within the aptly named 'Vault' you can also set-up budget accounts, along with folders and smart folders for organizing and sharing across a network.
Getting my test account ready took me about two minutes, and this is where the fun starts. Entering a withdrawal from my account was really easy, with all the details input through the right hand pane. You also get the option of taking a photograph of the item purchased, which is great fun. I snapped the photo of my DVD purchase using the MacBook's built-in iSight camera. This could prove useful for companies who may need proof of purchases for insurance purposes.
It is also possible to enter pending transactions for forthcoming expenses, and also if they are repeating you can choose between daily, weekly, bi-weekly, monthly and yearly repeats. So what started out to look like a simple app, is full of very useful features, but remains easy to use.
I have only just touched the surface so far, so stay with me. At the top of the Cha-Ching application window when in accounts view, there are three tabs. 'Overview' is just that, it shows you your latest incoming and outgoing money, as well as upcoming transactions. The 'Transactions' tab again shows you a list of what is happening with your hard earned cash, but also provides a third pane showing more details about each entry. This third pane is also where you enter new transactions. The final 'Online' tab, which I mentioned earlier is a built-in browser, where you can view your online account. This makes it very easy to cross-reference things, without having to switch ot of Cha-Ching and into Firefox or Safari.
Well, now managing my money is fun again. Cha-Ching is in beta form at the moment (version 0.5) and already it is shaping up very nicely. The only thing I would like to see are some sound effects, like the cha-ching sound when I put money in, and maybe a discouraging arrrgggghhhh sound when I take money out.
Overall, I am really impressed, Cha-Ching offers lots of features, a very clean and easy to use layout, and that all important Mac feel. If you want to manage you money without it seeming like a task, then breathe some fun back into your banking and check out Cha-Ching. A 30 transaction demo is available from the link below, with a single user license costing $14.95.
Product: Cha-Ching
Cost: $14.95
Supplied by: Midnight Apps
Contact: support@chachingapp.com