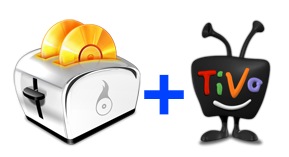 Title: Toast 8 Titanium
Price: $79.99 [after $20 mail-in rebate]
Availability: Now
Publisher: Roxio
Recently we talked about the TiVoDecode Manager which enables Mac users to download television shows recorded on TiVo over the home network. Now Roxio with its latest version of its award winning CD and DVD burning software, Toast 8 Titanium, has decided to try its hand at it. The difference is Roxio is officially endorsed by TiVo to provide this TiVoToGo solution for the Mac.
For this review, I'm only going to focus on the TiVo Transfer side of Toast 8 Titanium, but will take a look at the rest of the application in a later post. If there are specific questions you might have about Toast 8 that I should address in later posts, please leave a comment below.
User Interface
TiVo Transfer is a separate application in suite of applications that comes with Toast 8 Titanium. As you might guess, after entering your TiVo account's Media Access Key, the application finds all the TiVos on your home network (using Bonjour, I assume), and shows you all the programs you've recorded on each. Selecting a show gives you two choices: Start Transfer, which puts the show in a download queue; and Create Auto Transfer, in TiVo speak, is something like a Seasons Pass for downloads which will automatically download shows with the same title that your TiVo records.
The other options that the GUI give you are to view all the shows that you've downloaded to your Mac in the TiVo Recordings Library, view the Active Transfers currently flowing to your Mac, and view and remove the Auto Transfers. That's about it.
How it Works
After downloading a show, double clicking on it from the Library pops up a rebadged and specialized version of the Elgato EyeTV player, dubbed the Toast Video Player. The player works nicely, with a window playing the requested show and a virtual remote control. It works well, and fast-forwards and rewinds quickly. In this application, if you poke around a bit, you'll find that the saved .tivo video files are MPEG-2 files, with a reported 480×480 resolution. I tried playing the files back in VLC, iTunes, and QuickTime, but the only app they'd play back in was the Toast Video Player.
To get these shows into your iTunes library, playback on your iPod, or playback on external media like a DVD, you'll need to click on the "Toast It" button from your Tivo Recordings Library and Toast 8 will launch. From there, you can export the video to convert the shows into the appropriate file type for iPod, iTunes, PSP, etc. Perhaps the developers were thinking because of the time it takes download the file alone, some users might not want want to wait longer to encode the file, so they kept the file transfer and the encoding processes separate. It should also be noted here that the maximum resolution TiVo will allow the video to transcode to is 320×240.
Likes and Dislikes
The TiVo Transfer app works really well and is nice to look at. Like the great iLife applications, it seamlessly and without user intervention, uses Bonjour to discover all the TiVos on your network. It uses the same icons your TiVo does, to display the shows that are newly recorded, ones that TiVo recorded based on your individual preferences, ones that are currently being recorded, and those in danger of being deleted. It shows the details of each show, just like your TiVo—episode description, channel, duration, and time recorded. Along with the points noted above, that's about all TiVo Transfer does on its own.
However, there are a number of features missing and / or limited, that I think an app like this should offer. First off, shows transfer to your Mac in about real-time, so if a show is one hour, it takes about that long to download—no watching the show before it's complete. Instead of doing the transcoding during the transfer like TiVoDecode Manager, at least two more user-activated steps are required just to get the show into your iTunes library. Toast 8 Titanium, in TiVo's name, limits the resolution size of the video when exporting. TiVo Transfer is only a one-way transfer app, from TiVo to Mac; too bad the app can't push videos from Mac to TiVo. An in-app online scheduling interface would have been nice as well.
Wrap-up
The TiVo Transfer app included with Toast 8 Titanium is a great step-forward for Mac users who want the TiVoToGo functionality that PC users have had for some time. It has stiff competition from open-source programmers whose applications already provide Mac users with more functionality than this 1.0 version. I'm hopeful that using the resources available to them, Roxio and TiVo will provide later versions of TiVo Transfer with a feature set that is complete and more innovative.