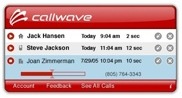 One of the coolest apps that sets the iPhone apart from any other mobile phone is visual voicemail, which displays who left you a message and allows you to listen to each in any order. It's a new way to answer your mobile phone voicemails, but now you can do the same on your Mac with the CallWave Visual Voicemail widget.
Setup on your Mac and Mobile Phone
CallWave has setup this free service to allow you to receive your mobile voicemail on your computer. Just download the Apple widget (Yahoo! Widget and a Vista Gadget users can play too) to your Mac, install it in the usual way. Then open your Dashboard and click on the CallWave Visual Voicemail widget to set it up.
The widget will ask you for your mobile phone number, your email address, and to create a PIN. It will then ask you to choose your mobile network provider (mine is Cingular) and give you instructions for setting up your mobile phone to work with the CallWave voicemail service.
What's happening here is that you're reprogramming your phone to use a different voicemail service, instead of the one originally provided by your mobile provider. What that means is that when someone calls me and leaves a message, it will be through CallWave instead of Cingular. When using the system, the first time you access your voicemail on your mobile phone, you'll go to CallWave's service, and have you create a new voicemail greeting. After that, everything works as usual.

Oh, and if you just want to try out CallWave, uninstallation is as easy as installation, and the widget gives you precise instructions on how to do it.
Using Visual Voicemail
After setup, when someone calls and leaves you a voicemail, you'll see it pop-up in the widget's list. The new message will list the person's name (if it can be identified from the caller ID), the date and time when they called, and the length of the call. The widget gives you the opportunity to "tag" or identify the call properly with a name and the kind of number it is (home, work, cell, and unknown).
Clicking on the little play button streams the audio of the message thru the widget. I'm still trying to track down if the audio files are saved locally on my Mac, but if they are, I haven't found the files yet.
You can delete each message from the widget as easily as closing a tab in your favorite browser, by clicking on the "X". If you delete a message the traditional way, via your mobile phone, the message eventually de-lists itself from the widget.
Costs and Parting Thoughts
CallWave offers this service via the widget (or via email) for free. Via their website's FAQ, they make it clear they don't intend to charge for this basic service, but they do have other more advanced features (including call screening and toll-free telephone support) for which they will gladly charge you.
I only have a few gripes with this app. The first deals with security and notification—CallWave could to a lot more to explain what's going on and assure the user that the service is secure; the thought of my private voicemails floating around the Internet is off-putting, to put it mildly. I'm not saying that it's insecure, I'm just saying that it's not clear from CallWave's website. The second deals with the caller identification—since I'm using my Mac, it would be nice to have this information pulled from the Address Book, instead of CallWave's own database. Maybe for ver. 2.0 of the widget?
I think CallWave's Visual Voicemail service is significant for a few reasons:
It's a pretty cool VOIP-like service provided through your mobile phone.

It provides a competitive and compelling service to the traditional mobile service providers' voicemail.

It makes you wonder if this is how Cingular will be providing the visual voicemail service to the iPhone.

It also makes you wonder if 3rd parties like CallWave could develop for the iPhone, could they provide a competing service to Cingular's exclusive "network-only" visual voicemail with Apple's iPhone.